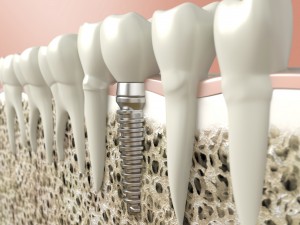 Having one or more missing teeth is no picnic. Even one missing tooth can make eating and speaking difficult. And then there's the self-conscious feeling of knowing that when you smile, people might focus on your missing tooth. These troubles can be eliminated with dental implants. Dr. J.D. Robison at Robinson Dental Group has used dental implants to the restore the smiles of many people in and around Canton, MI, and he can do the same for you!
Although you have other choices when it comes to tooth restoration—crown and bridgework, partial and full dentures—the most lifelike among them is a dental implant. The reason is a dental implant replaces not only the crown of the tooth—the portion that's visible—but also the tooth's root. As such, an implant affords greater stability as well as the advantage of maintaining jawbone structure, because the implant averts bone deterioration.
What's involved in the Dental Implant Procedure?
If we determine that a dental implant is the best option for you, then the first step is minor surgery during which Dr. Robison implants a titanium post in the bone beneath the open socket of your missing tooth. If your dental implant will be used to secure a partial or full denture, then he will strategically place more than one implant along your arch. As you heal, the post or posts and your jawbone will fuse together in a process called osseointegration. During this time, Dr. Robison will likely protect the implant with a temporary crown.
Once you have completely healed, you'll return to our office to have your permanent, custom-crafted porcelain crown affixed to the implant. The result is a solid tooth restoration that looks a functions like a real tooth.
Schedule an Appointment Today
If you would like to consult with Dr. Robison to learn more about how dental implants can restore your smile, then call Robison Dental Group. We proudly serve patients in Canton, MI, as well as the surrounding areas of Ann Arbor, Northville, Westland, and Plymouth and beyond.