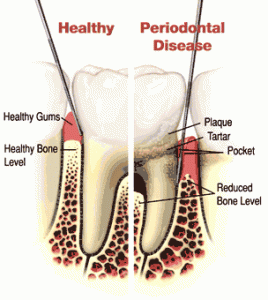 Periodontal disease is a serious dental health concern. Here at Robison Dental Group we're committed to checking you for signs of this disease at every appointment. This is yet another reason why it's very important that you see us twice a year for your regular check up.
A common form of periodontal disease is gingivitis, or inflammation of the gums. Gingivitis is caused by a buildup of plaque and tartar left on the teeth. After a while, they will irritate the gums. If left untreated, gingivitis can develop into periodontitis, where the gums start to pull away from the teeth and infected pockets develop.
Drs. John and J.D. Robison provide periodontal therapy to help treat this condition. We have a non-surgical treatment available to help remove plaque and tartar from your teeth. Your gums will go from being swollen and bleeding to a nice, healthy pink color. But first, our doctors will meet with you and create a customized treatment plan to get your gums healthy again!
Some general signs that you might have gingivitis include swollen and bleeding gums, and chronic bad breath. If you're concerned about the health of your gums, give us a call, we'd love to help you!
If you're interested in learning more about periodontal disease, call our Canton office today! At Robison Dental Group we're committed to providing quality oral care to our patients from Canton, Ann Arbor, Northville, Westland and Plymouth!