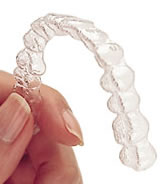 If you've dreamed of a straighter smile but think the only way to achieve one is with traditional braces, you're missing out. At Robison Dental Group, we offer a revolutionary orthodontic solution called Invisalign that's helping us change the lives of Canton-area teens and adults.
What makes Invisalign different? The answer is threefold. Invisalign is:
Clear
Removable
Convenient
Now, let's take a look at each one of these.
Clear
Traditional braces use effective but unattractive brackets and wires to gradually move teeth into their ideal position. Invisalign, on the other hand, relies on a series of clear trays instead, each of which is custom-made for your smile and is intended to bring you closer and closer to your goal. And because your aligners are clear, you can look forward to treatment that's more discreet and unobtrusive, leaving you feeling more confident as you go to work or school.
Removable
Besides being clear, there's another benefit to Invisalign—your aligners are removable. What that means is you can still enjoy all your favorite foods by simply taking out your aligners when it's time to eat. But that's not all it means. By taking out your aligners to brush and floss, you can keep your teeth cleaner than you can with traditional braces, which can encourage tooth decay and gum disease.
Convenient
Both of the above combine to make treatment with Invisalign a more convenient orthodontic solution for Canton-area patients to consider. Because Invisalign uses clear trays instead of brackets and wires, no tightening appointments are needed. Instead, we'll just need to check your progress periodically. And because removable trays make it easier to keep your teeth clean, future appointments for common oral health problems are less likely.
Are you ready to talk about how Invisalign can help you? Call Robison Dental Group today to schedule an appointment with Dr. John R. Robison or Dr. J.D. Robison. Our doctors serve patients from Ann Arbor, Northville, Westland, and Plymouth.