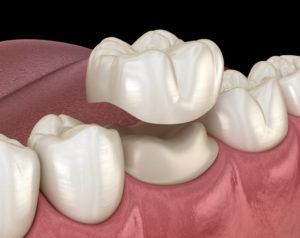 The environment inside your mouth is quite volatile. To be accommodating, dental crowns are made from high-quality ceramics that provide a durable structure. Still, crowns can eventually become worn and need replacement. Instead of waiting until your restoration completely fails, it's helpful to be aware of the common warning signs that a repair or replacement is needed. As you continue reading, a dentist in Canton explains what you should be on the lookout for and gives tips for how to extend the life of your crown.
A Receding Gum Line
If you've noticed that your gum line is receding, it can be an indicator that the crown was incorrectly bonded or needs replacement. This can also become problematic by allowing bacteria to gather around the base of the tooth to cause infection.
Pain or Swelling
Any pain or swelling that you notice can be an indicator of either a faulty crown or improper placement. These can also be warning signs of an infection. Thus, any discomfort or inflammation should be brought to your dentist's attention.
Noticeable Wear and Tear
Pay attention to any signs of a crown becoming worn. This problem is especially prominent among people who grind their teeth, as the increased pressure can accelerate the crown's wear. In addition to examining the crown, a dentist will check for signs of bruxism (teeth grinding).
Chipping or Cracking
While all-ceramic and porcelain-fused-to-metal crowns are refreshing alternatives to metal crowns, they can be subject to chipping or cracking over time. If you notice either issue, you should immediately bring it to your dentist's attention. The sooner any issues are assessed and treated, the better the chances of salvaging the crown.
Diminished Smile Aesthetics
Patients with porcelain-fused-to-metal crowns may notice a dark line along their teeth as time goes by. This is the result of the crown's metal showing through. Usually, a new crown is required to create a more attractive smile.
A Crown That's Been in Place for Over 10 Years
The general lifespan of a crown is 10 to 15 years. Once you've had yours for over a decade, you should have it examined – even if there are no warning signs of it failing. A dentist can possibly discover minor issues that would otherwise go undetected. The sooner any problems are found, the more treatment options you'll have.
Instead of guessing about whether you're in need of a dental crown replacement or repair, be proactive about having your restoration examined. Better yet, don't wait until you have a problem to visit your dentist. Make it a habit to maintain six-month appointments for checkups and cleanings. Not only will it allow the dentist to identify any issues, but it will also help to extend the life of your crown!
About the Author
Dr. J.D. Robison is a graduate of the University of Detroit Mercy. As a testament to his dedication to excellence, he has also completed postgraduate training at the renowned Dawson Center for Advanced Dental Studies. Dr. Robison restores his patients' smiles by placing dental crowns at Robison Dental Group, and he can be reached for more information or to schedule a visit through his website.