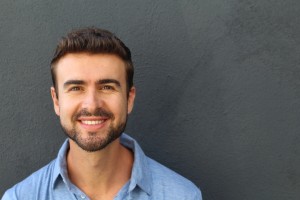 Discreet and easy to clean, Invisalign clear braces in Canton, MI correct mild to moderate orthodontic issues with fewer hygiene and gum issues.
Would you like a straighter, healthier smile, but dislike the idea of metal bracket and wire braces? You could join the thousands of older teens and adults who enjoy the discreet appearance and simpler hygiene of Invisalign clear braces from Robison Dental Group in Canton, MI.
Digital professional publication, Dental Tribune International, published findings from research on wearers of Invisalign clear braces. An alternative to traditional fixed orthodontic appliances such as metal, ceramic or lingual braces, Invisalign appliances are a series of clear plastic aligners that are practically invisible and completely removable.
What the research revealed
The published research showed that individuals who wear Invisalign clear aligners for their mild to moderate orthodontic issues such as tooth rotation, crossbite, open bite, underbite and overbite, experience:
easier oral hygiene because the aligners are fully removable for eating, brushing and flossing
far fewer dietary restrictions than traditional braces
better gingival (gum) health and less gum disease
few to no sore spots on gums and the soft tissues of the mouth
a greater sense of well-being and self-esteem
Also, because Invisalign aligners are unnoticeable and feature a shorter treatment time of 9 to 15 months on average, adults are more likely to engage orthodontic treatment necessary for good smile aesthetics and for the health benefits of well-aligned teeth.
What Invisalign treatment involves
Canton dentist, Dr. J.D. Robison,  carefully evaluates patients to determine if Invisalign clear aligners are right for them. After x-rays, impressions and creation of a digital model, the Invisalign lab creates a series of BPA-free aligners, individualized to fit snugly over the patient's teeth. Up to 30 pairs in all, these aligners move teeth gently and gradually into better positions within the mouth.
The patient changes the aligner pairs according to the treatment plan. He or she also visits Dr. Robison every 4 to 6 weeks for a simple progress check. There are no lengthy or uncomfortable adjustments to the appliances.
Living with Invisalign clear braces
Patients wear their aligners for 20 to 22 hours per day, removing them to eat and to brush and floss their teeth. They clean their appliances with a non-abrasive toothpaste and rinse with warm water.
Fortunately, patients can enjoy the healthy foods they always have with no restriction on nuts, fibrous vegetables, pizza crust, bagels and other favorites that often damage traditional braces. Plus, wearers remove their aligners for special occasions such as proms, weddings, job interviews and professional presentations, boosting their self-confidence.
Could Invisalign help you?
Dr. J. D. Robison of Robison Dental Group has years of experience in treatment with Invisalign and with traditional orthodontic appliances. He will examine your teeth and gums, listen to your concerns and goals and offer a tailor-made solution best for you. Why not contact the team at Robison Dental Group for your own smile analysis?