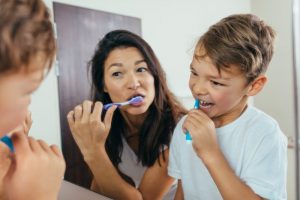 Have you ever sat back and considered how important your gums are when it comes to completing basic, everyday tasks? They give your teeth a stable and strong foundation, allowing you to smile, chew, and speak with ease. Unfortunately, gum disease is a common oral health problem that leaves one out of every two American adults' gums unhealthy and in jeopardy. Because September is National Gum Care Month, there's no better time to learn four new ways you can look after your oral health. Read on for some tips on how to keep your gums in tip-top shape.
Using the Best Brushing Technique
Most people don't know that there's actually a technique that the American Dental Association recommends using while brushing your teeth. That way, you can rid your mouth of plaque and harmful oral bacteria every morning and night. Here are some basic brushing guidelines:
Brush at a 45-degree angle.
Use a gentle, circular movement.
Clean the inside of your front teeth by turning your toothbrush vertically.
Replace your toothbrush every three months.
Flossing and Rinsing
Some people believe that brushing their teeth should be enough to remove all the plaque and food debris from their mouth. However, that's not true. The ADA recommends flossing daily to remove lodged substances from between your teeth that can cause cavities and attract oral bacteria. Another preventive step you can add to your oral hygiene routine is rinsing your mouth with an antibacterial mouthwash. This way, you won't have to worry about your gums becoming vulnerable to infection.
Quitting Bad Oral Habits
It's no surprise that bad habits like tobacco use don't stop at just impacting your lungs. Cigarettes also have negative effects on your oral health and gums. It limits the amount of blood flow in your mouth, making it more difficult for your gums to heal if they become damaged, which could cause an infection. This bad habit also weakens your immune system, making it harder to fight off the toxins that harmful oral bacteria release that cause irritation, inflammation, swelling, and bleeding gums in Canton.
Getting Routine Checkups and Cleanings
The best precautionary measure to take against gum disease is to visit your dentist every six months for a routine checkup and cleaning. During this appointment, they'll inspect the health of your mouth and look for any symptoms of infection or other oral health problems. If they spot them early, they can reverse the effects with gum disease treatment in Canton. This way, you won't have to worry about the condition causing additional damage to your mouth like chronic bad breath, receding gums, and tooth loss.
Celebrate this National Gum Care Month by getting a clean bill of health from your dentist in Canton. With routine preventive care, you can ward off any lingering oral health problems and protect your natural teeth from becoming permanently damaged. You won't regret your efforts when you're able to enjoy a full and beautiful smile down the road!
About the Author
Dr. J.D. Robison loves being able to solve his patients' oral health problems and provide them with relief from discomfort. He takes extra time to make his patients feel at ease and relaxed while they're receiving the dental care they need. With a focus on preventive treatments, Dr. Robison can spot and treat small issues like cavities before they turn into something more serious, like an infected tooth. For questions or to schedule a checkup and cleaning, visit Robison Dental Group's website or call 734-453-6320.