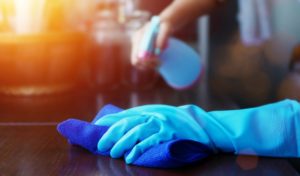 Dental practices have always been some of the cleanest environments in the entire country. To keep their patients safe from sicknesses like the common cold and the flu, dentists use a wide variety of infection control protocols. However, these strict sanitation standards have been raised even higher in order to prevent the spread of COVID-19. Read on to learn more about the five key dental safety precautions your Canton dentist uses to keep themselves, their patients, and their entire community healthy during the coronavirus pandemic.
1.) Excellent Hand Hygiene
Since a dentist's hands come in contact with all their patients' mouths, they have always practiced exceptional hand hygiene. Even before COVID-19, your dental team diligently washes their hands:
Before and after treating each patient.
Before putting on and directly after taking off a pair of gloves.
Before leaving the practice and right after they return to it.
2.) Proper Cough Etiquette & Respiratory Health
Every team member has completed additional COVID-19 awareness and prevention training, which covers the most effective ways to stop the spread of germs. Additionally, the practice has been rearranged to remind staff and patients alike to practice proper cough etiquette like covering their nose and mouth when they sneeze. You'll notice easily accessible facial tissues, hand sanitizer, and no-touch trash receptacles to encourage excellent respiratory health.
3.) Adequate Personal Protective Equipment (PPE)
Personal protective equipment (PPE) acts as a barrier between infected particles and the wearer's nose, mouth, and eyes to prevent transmission. After wearing them while administering dental care, the PPE is either thrown out or disinfected with hospital-strength sanitizers to eliminate spreading any germs that may have settled on them. At your next appointment, you may notice PPE like:
N95 and ASTM level three masks for your dental team.
N95 masks for the friendly front desk staff.
Face shields to protect your dentist from splashes or sprays of spittle.
4.) Regularly & Thoroughly Disinfecting the Environment
Many dental treatments generate aerosols, which can spread infected respiratory droplets very far. What's more, they can survive on nearby surfaces for minutes, hours, or days at a time depending on the material. Any items that may be contaminated are disinfected regularly throughout the day, between each patient, and thoroughly at night. First, the object is cleaned with soap and water to clear away any debris that could shelter smaller infected particles. Then a hospital-strength disinfectant is applied to eliminate any lingering microorganisms.
5.) CDC-Approved Instrument Sterilization
Single-use tools like needles and suction tube tips can be thrown away after coming in contact with a patient, which completely eliminates the risk of spreading germs. However, reusable instruments like dental mirrors, scalers, and handpieces (drills) are sterilized using specific methods outlined by the Centers for Disease Control and Prevention, like:
Steam under pressure with an autoclave.
High temperatures with a dry heat oven.
A disinfecting chemical vapor with a chemiclave.
Your dentist has always gone above and beyond to ensure you are as safe and healthy as possible during your dental treatment. If you need to visit them during the pandemic, you can rest assured that they are taking every precaution to maintain a germ-free practice.
About the Practice
At Robison Dental Group, Dr. J.D. Robison cares about his patients' overall wellbeing just as much as their beautiful smiles. To continue to keep his patients, staff, and the entire community of Canton, MI healthy, he has been closely monitoring the COVID-19 pandemic and adjusting his infection control protocols accordingly. Alongside the ambitious sanitation standards set forth by the CDC that his practice has always met, he has implemented 25 additional steps to make every dental visit as safe as possible. If you'd like to learn more about his Commitment to Safety, feel free to contact him via his website or at (734) 453-6320.