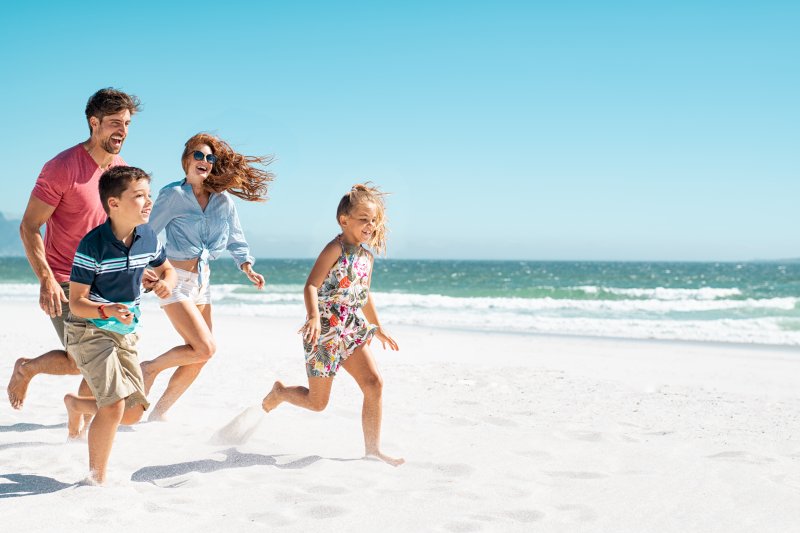 Most people will experience at least one dental emergency in their lifetime. The worst part? There's no telling when they will strike. It might be during a busy work week, in the middle of the night, or even on vacation! These situations can be unsettling and may even cost you your smile. But don't worry, following proper precautions can help you prevent them from happening. Read on for five tips to avoid dental emergencies this summer.
Maintain Good Oral Hygiene
It's easy to fall out of routine on a hectic summer schedule. However, the better you do at keeping up with your oral hygiene routine, the fewer dental problems you'll have. You may need to remind everyone that they still need to brush their teeth twice a day and floss daily, even during vacation.
Drink Plenty of Water
The sunny season calls for more opportunities to drink sweet or acidic beverages. Juice, soda, sports drinks, and lemonade may all be tasty, but they can damage your tooth's enamel and cause decay. But you don't have to give up these beverages completely! Drinking more water keeps your mouth clean by washing away bacteria, neutralizing acid, and stimulating healthy saliva production.
Eat Healthy Snacks
Traveling means more time for snacking. Whether you're going on a long road trip or flying overseas, avoid munching on sugary or acidic foods out of boredom. Frequent consumption can lead to dental decay. Instead, pack tooth-friendly foods like carrot sticks, apple slices, celery, cheese, and nuts to keep your body and mouth healthy!
Use a Mouthguard
Sports like swimming, hiking, biking, and basketball are fun, traditional summer activities, but they put you at an increased risk of injuries to the mouth, teeth, and gums. One hit in the face or mouth can lead to broken or chipped teeth, fractured roots, and cut lips. Use a mouthguard when participating in full-contact sports to keep your smile safe.
Prepare a Dental Emergency Kit
It's no surprise that more time is spent outdoors during the warmer months. However, increased participation in recreational activities means there's a higher chance for an accident to occur. Be prepared to handle these unsettling situations by packing a dental emergency kit (or two) with the following items:
Your dentist's contact information (office and emergency phone numbers)
Gauze
Handkerchiefs
Saline solution
Small container with a lid
Make your oral health a priority regardless of where you go or what you do. Following these tips to protect your smile will ensure you can enjoy a healthy mouth for many summers to come.
About the Author
Dr. J.D. Robison strongly believes that taking care of patients is about more than just fixing their teeth, it's about caring for them entirely. He goes above and beyond to provide personalized, comfortable, high-quality dental care to accomplish all smile goals. Dr. Robison has completed hundreds of hours of continuing education, granting him the ability to handle dental emergencies with confidence and expertise. He and the team at Robison Dental Group offer same-day services to stop your discomfort should an accident occur. Schedule an emergency visit via our website or call (734) 453-6320.