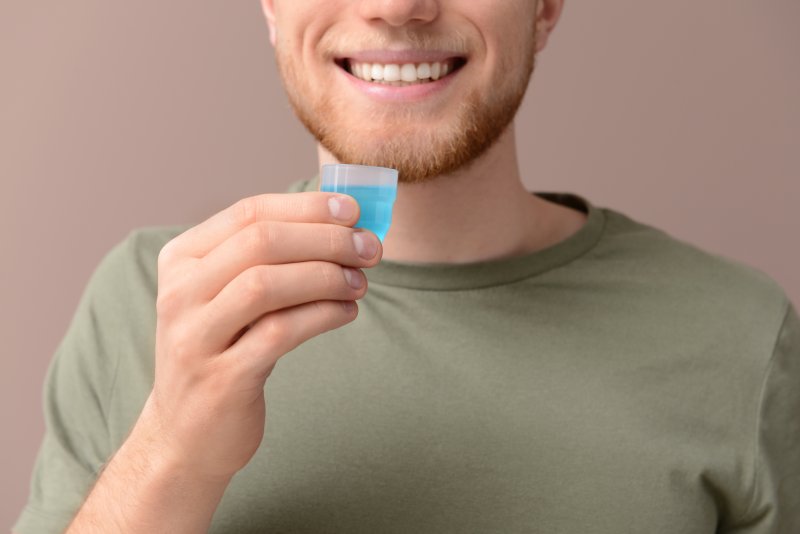 Your dentist in Canton has always taken many precautions to keep himself and his patients safe. Now that we are living through the COVID-19 pandemic, there are even more. Asking patients to use an antimicrobial mouthwash before appointments is just one way that your dental team is protecting you and your family from becoming ill. Continue reading to learn more about how anti-microbial rinses work as well as some new safety measures being taken at the office.
Why Do I Need to Rinse Before My Appointment?
Anti-microbial mouthwashes are effective at killing 99% of germs that cause bad breath, plaque, and gum disease in as little as 30 seconds. Even though they have not been tested against any coronavirus strains, it is proven to kill most microorganisms. By taking time to rinse before you receive treatment, you are helping to decrease the possibility of spreading illnesses to your dental staff. When the team is safe, so are the patients.
How Else Is My Dental Office Keeping Me Safe From COVID-19?
In addition to rinsing before appointments, there are numerous new protocols being taken to limit the spread of COVID-19. Here are just a few of them:
Advanced Staff Training
Each member of your dental team has completed additional awareness and prevention programs. This way they are better informed and trained to do their jobs during the COVID-19 pandemic.
Social Distancing
Social distancing will be enforced in the dental office. There are helpful signs placed throughout the practice and a one-way traffic system in the treatment area. Instead of waiting in the reception area, you can now check in from your car. Your dentist's staff will let you know when they are ready for you. This helps to eliminate unnecessary contact between patients.
Daily Health Checks of Team
Each day, when the dental team come into the office, they will have to answer a brief set of questions regarding their current health. They will also have their temperature taken using a no-touch thermometer. This helps to ensure that nobody working in the office is experiencing symptoms related to COVID-19.
Pre-Screening of All Patients
When patients come in for their appointments, they will also be asked to complete a brief questionnaire, a consent form, and have their temperature taken using a no-touch thermometer. If a patient's temperature is too high, the dental staff will be happy to reschedule for a later time.
Hand Sanitizing Station
Each patient will be asked to thoroughly disinfect their hands before entering the treatment area of the practice.
Increased Personal Protective Equipment
Your dentist has always worn PPE when treating patient, now, he and his staff will be wearing even more. Everyone at the front desk will be wearing masks. The clinical team will be wearing face shields when treating patients. This is all an effort to limit potential spread of illnesses.
Plastic Barriers
Clear guards have been installed strategically throughout the practice in order to block movement of airborne particles. They are disinfected regularly.
Many things have changed in the dental setting, but it's all to ensure your safety when you come in for your regular appointments. Just because the world looks a little different does not mean that you should neglect your oral health. Now you can come to the office with peace-of-mind.
About the Author
Dr. J. D. Robison provides numerous dental services to the Canton, MI community. He studied at Purdue University, the University of Michigan, and the University of Detroit Mercy. He's completed extensive training in multiple aspects of dentistry including aesthetic reconstruction, orthodontics, and jaw joint disorders. Dr. Robison and his team are taking 25 additional steps to keep the office safe during the COVID-19 pandemic. For more information or to schedule an appointment, visit his website or call (734) 453-6320.