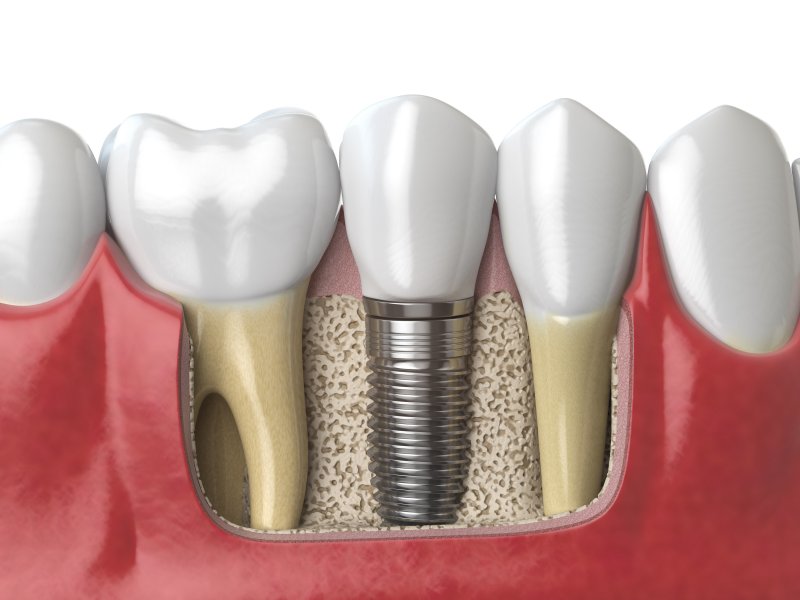 Tooth loss is a common problem that Americans face. In fact, approximately 178 million Americans are missing at least one tooth. Fortunately, if you are one of these people, there are several different options to restore your smile. Dental implants have become increasingly popular through the years for a variety of reasons. Over 3 million adults in the United States have chose implants over other options and are reaping the benefits today. Continue reading to learn why dental implants are so popular.
Dental Implants Work!
Compared to other tooth replacement options, dental implants have proven to be a great long-term option. In fact, when they are placed by a skilled dentist, they have a success rate of 95-98%! Dentures and dental bridges do not last nearly as long either. Dentures need to be replaced every 5-8 years and bridges do not normally last more that 12. Implants can have a lifespan of over 25 years when taken care of properly.
Tooth Implants Prevent Jawbone Deterioration
When you are missing a tooth, your jawbone is not getting the stimulation it needs from chewing to stay strong. Over time, it will begin to deteriorate and shrink. Eventually the facial structure will start to change, and you could end up looking much older than you actually are. Because dental implants replace the natural root of the tooth, this prevents jawbone shrinkage and helps you to maintain your natural face structure.
Implants Are Comfortable and Convenient
Dental implants do not require special care. Just brush, floss, and see your dentist every six months. In fact, it is just like getting another tooth. You can speak, laugh, and eat without having to worry about your teeth slipping. Once the healing process is complete, it should act and feel just like the rest of your smile.
Implants Are Durable
Because implants are fused to the jawbone, they are securely anchored into place. Therefore, you have the same bite force that you would have with a natural tooth.
Dental Implants Look Natural
Implants are designed to look just like the rest of your teeth. The size, shape, and color of your artificial tooth that is placed on the implant is custom made just for you. You will be able to smile freely knowing that no one will be able to tell that it's even there!
Tooth Implants Are Customized for Individual Needs
Every patient is different and so are their needs. Your dentist will be able to choose a treatment plan to give you the results that you are looking for. This could vary depending on the number of teeth you are missing, the location of your missing teeth, and other factors.
When considering your options when it comes to tooth replacement, ask your dentist if you're a good candidate for dental implants in Canton. With all of their benefits, you'll have your beautiful smile back in no time!
About the Author
Dr. J. D. Robison provides restorative dentistry at his practice in Canton, MI. He studied at Purdue University, the University of Michigan, and the University of Detroit Mercy, as well as completing the core curriculum at the prestigious Dawson Center for Advanced Dental Studies. He has extended education in complex restorative dentistry and dental implants. For more information or to schedule a consultation, visit his website or call (734) 453-6320.