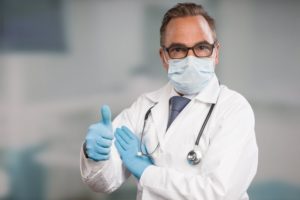 The best way to protect yourself and your loved ones from COVID-19 is to minimize your exposure to it. Experts recommend only leaving your house for essential visits to the grocery store, pharmacy, bank, doctor's office, and yes, your dentist's practice too. Now more than ever, routine dental checkups play a key role in preventing serious oral health conditions and protecting overall health. Here are three important reasons why you shouldn't delay your regular dental appointment during the COVID-19 pandemic and what your Canton dentist is doing to keep you safe during your visit.
1.) Prevent Oral Health Issues from Developing
During your biannual dental checkups, your Canton dentist carefully removes the buildup of bacteria-filled plaque and tartar in your mouth. Fewer harmful particles in your smile means a dramatically reduced risk of tooth decay, gum disease, and oral infections. The longer you postpone your dental checkup, the higher the chances are that you'll develop a painful, expensive issue that could have easily been developed.
2.) Spot & Stop Small Problems Before They Become Dental Emergencies
The last thing you need while trying to self-isolate is to break a tooth or wake up with a toothache. Thankfully, not only is your dentist still treating dental emergencies, but they can help you prevent them in the first place with regular checkups. These biannual visits give them the perfect opportunity to spot the earliest warning signs of oral health issues and treat them before they develop into dental emergencies.
3.) A Clean Smile Can Help Keep You Healthy During COVID-19
While most coronavirus cases are mild, those with underlying health conditions or a weak immune system can experience severe, even life-threatening complications. If you allow any developing oral health issues to worsen by postponing your dental checkup, your body will naturally trigger an immune response. The more energy your immune system spends on combating these problems, the less prepared it will be to fight off viruses like COVID-19, and the more likely you'll be to develop serious complications from it.
Your Canton Dentist's Commitment to Safety
To safeguard your wellbeing while providing the dental care you need in these unusual times, your Canton dentist has established numerous additional COVID-19 safety precautions, like:
Sequenced scheduling, virtual waiting rooms, and hours reserved specifically for at-risk patients to minimize your exposure to others.
No-touch temperature checks, antimicrobial mouthwash, and hospital-grade hand sanitizer for every patient before their treatment.
Thorough disinfecting between every appointment, strategically placed clear barriers, and new HEPA and UV air filtration to ensure the practice stays as germ-free as possible.
The COVID-19 pandemic has changed many aspects of our lives, but it hasn't changed the importance of your routine dental checkups. If you need to visit your Canton dentist, you can rest assured that they are taking every precaution to keep you as safe and healthy as possible.
About the Practice
At Robison Dental Group, nothing is more important than the wellbeing of our patients, staff, and the community of Canton, MI. Now and always, we encourage our patients to practice excellent at-home oral hygiene and visit us twice a year for regular checkups and cleanings. We have been monitoring the COVID-19 pandemic closely and have added 25 additional precautions to our normal standards of care. If you have any questions or concerns about your upcoming appointment, feel free to contact us via our website or at (734) 453-6320.