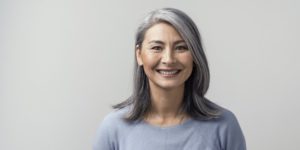 No matter how many teeth you have missing, the best way to replace them is with dental implants. Many patients are choosing this route because it is 95% effective, but what is the secret to dental implant success? What sets it apart from the other methods of tooth replacement? Continue reading to find out why the dental implant process is in a class of its own!
A Careful Assessment
For dental implantation to achieve its final goal of restoring functionality and smile aesthetics, each step of the process must be carefully planned. It starts with the dentist performing a thorough assessment of your gums and any remaining teeth to make sure there are no existing problems. If any issues are discovered, a treatment plan will be developed to ensure that the implant securely and safely seats in the jawbone.
Decisive Action
The longer you're without teeth, the greater your chances of experiencing jawbone loss. That's because the underlying bone is dependent on the pressure from tooth roots to trigger new bone cell generation. By reaching out to a dentist sooner, you can possibly avoid having to undergo a complex bone grafting procedure to build up the treatment site.
Expert Care
It's important to find the right dentist to work with. You should especially look for two key traits: experience and qualifications. By identifying a dentist who has a proven track record and continues to receive advanced postgraduate training, you can feel more confident about receiving care and having your smile restored.
High Quality Materials
Dental implantation isn't a procedure that allows for any "corners to be cut." Only the highest quality materials should be used. Obviously, this affects the price point, but it pays off by leaving you with a restoration that, with proper care, could last 30 years or more.
Excellent Dental Care
You can feel empowered in knowing that you play an integral role in extending the longevity of your dental implants. The dentist will provide instructions for how to properly care for the dental implants in Canton. You'll maintain your restorations in a similar manner as your normal teeth, brushing and flossing twice daily. The only difference is that you'll be instructed to use a special floss that is designed for dental implants.
Visiting the Dentist on a Regular Basis
There is no denying the fact that patients who visit the dentist consistently experience better oral health and longer-lasting dental implants. By committing to semi-annual appointments, you can avoid a host of potential problems and preserve your healthy smile for years to come!
About the Author
Dr. J.D. Robison earned his dental degree from the University of Detroit Mercy. Throughout his career, he has demonstrated a commitment to excellence by taking several hours of advanced postgraduate education, which includes training at the world-renowned Las Vegas Institute. Dr. Robison helps patients regain the lives they once had by placing dental implants at Robison Dental Group, and he can be reached for more information or to schedule a visit through his website.