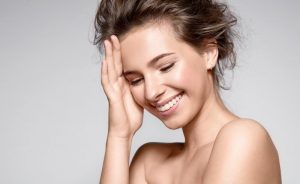 Every day, you're being judged based on your appearance. Furthermore, a third of the people you meet will notice the condition of your teeth before anything else. That means a smile flaw could leave an unfavorable first impression. Is there a way you can make the improvements you've been desiring for years? Your cosmetic dentist in Canton says, "Yes, you have options!" Read on to learn about 7 cosmetic dental procedures that can change your life!
#1 – Porcelain Veneers
A convenient solution for chipped, gapped, stained or misaligned teeth is the placement of porcelain veneers. Made from high-grade ceramics, the thin shells fit directly over the front teeth to create a smile that dazzles.
The entire process, which usually takes two visits to complete, starts with your cosmetic dentist removing a thin layer of enamel, capturing bite impressions that are sent to a trusted lab that will fabricate the new fixtures and applying temporary veneers. Then, once they arrive, the permanent veneers are securely bonded to rejuvenate your smile.
#2 – Lumineers
Similar to porcelain veneers, Lumineers fit over the teeth in the smile zone. The difference between the two applications, though, is that Lumineers don't require any tooth material to be removed. Thus, in one visit, patients are able to see drastic improvements in the way they look.
#3 – Metal-Free Restorations
Gone are the days when patients had to settle with being fitted with metal crowns. Thankfully, there are now better options: metal-free crowns and bridges. Made from 100% dental porcelain, they leave patients with a smile that looks like they were born with it.
#4 – Cosmetic Bonding
To mask minor chips and cracks, patients can benefit greatly from the cosmetic bonding procedure. Using compound resin material, your cosmetic dentist can mold your new application to fit the size, shape and color of your other teeth to create a symmetrical smile. Better yet, this can all be done in just one visit.
#5 – Teeth Whitening
With teeth whitening in Canton, stubborn stains from smoking, coffee, wine or other sources of discoloration can finally be removed. For patients' convenience, there are two primary options: take-home whitening and in-office whitening. Both methods yield phenomenal results and create amazing smiles.
#6 – Smile Makeovers
If you need more than one form of cosmetic dentistry to remake your smile, there's no need to fret. With a custom-designed smile makeover, all of your previous aesthetic woes can be addressed. It all starts with sitting down with your cosmetic dentist for a consultation, at which time the two of you will discuss your desires and the available options so you can achieve your dream smile.
#7 – Gum Recontouring/Crown Lengthening
If you have an overly-gummy smile, you no longer have to settle for this. Using soft laser technology, your cosmetic dentist can recontour your gums to create the effect of having longer crowns. The quick and painless procedure will revive your smile and boost your confidence.
If you've been unhappy with your smile, your woes can now come to an end. It starts, though, with contacting your dentist in Canton today to schedule an initial visit so the two of you can develop a plan to create an aesthetic masterpiece!
About the Author
Since entering the dental field, Dr. J.D. Robison has remained committed to excellence. Thus, he has pursued postgraduate continuing education from the prestigious Dawson Center for Advanced Dental Studies. Dr. Robison has received additional training in cosmetic dentistry, which allows him to create beautiful smiles at Robison Dental Group. He can be reached for more information through his website.