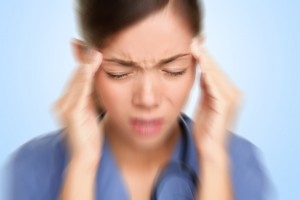 If you have trouble with chronic headaches, you might be surprised to learn that your pain and your smile could be linked. The same is also true for patients who have problems chewing, or who experience frequent ear pain, dizziness, or clicking and popping in the jaw joint. All of these are symptoms of a problem known as TMJ dysfunction.
What Is TMJ Dysfunction?
TMJ dysfunction can be cause by a misaligned bite but it can also be caused by stressed. Whatever the exact cause is, the result is the same—painful symptoms that can make everyday life difficult.
That's why Robison Dental Group offers TMJ headache prevention as a service. Using the latest in neuromuscular technology, we can diagnose your condition and design a personalized treatment that will help you neutralize your symptoms and take back your life again.
An oral appliance is one of the most effective solutions for treating headaches cause by TMJ dysfunction, but it's not the only one. Our doctors will work closely with you to determine which method for treating TMJ headaches is the one that's most right for you, with the result that you can finally face your life again.
Are you ready to take on your painful symptoms? Dr. John Robison and Dr. J.D. Robison are ready to help. Call our Canton dental office today to schedule your consultation appointment. Our office gladly serves patients from Ann Arbor, Northville, Westland, and Plymouth.