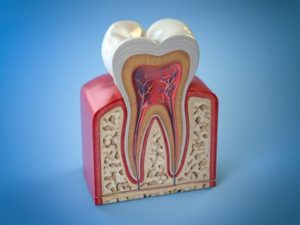 If your dentist in Canton has recommended a root canal for a problematic tooth, you probably found yourself feeling a bit uneasy and disappointed. Getting a root canal means you can save your tooth, so this is actually good news! But the misinformation about this treatment typically makes people dread it. Keep reading to see common myths about root canals debunked.
Myth #1: Root Canals = Pain
According to the American Association of Endodontists, the idea that root canals hurt is based on how much they used to hurt decades ago. Today, dentists have better anesthesia and more modern technology; so, they are no more painful than getting a filling.
Myth #2: An Extraction is Better than a Root Canal
Being able to save your natural tooth is far better than getting it pulled. Why? Having a tooth extracted without replacing it can allow your teeth to shift and create an imperfect positioning of the teeth when you close your mouth. If this happens, you may end up needing expensive orthodontic treatments.
Myth #3: Root Canals Remove the Tooth's Roots
When you get a root canal, your dentist will only remove the infected or damaged pulp from inside the tooth, but the roots are not removed.
Myth #4: If There's No Pain, You Don't Need a Root Canal
Pain-free cavities or aching that has disappeared may still require a root canal. Your dentist will perform a test to see if the pulp is damaged or infected. If they find that it is, it will need to be removed in order to save your tooth.
Myth #5: A Root Canal Will Completely Restore Your Tooth
This treatment involves the removal of the damaged pulp from the canals in your tooth's roots. Once that is done, your dentist will clean and disinfect the canals, reshape them, and refill them with gutta-percha, a rubber-like material, to protect your tooth from bacteria. Once the root canal is complete, your tooth can become dry and brittle. This means that you will need a permanent restoration like a crown or bridge to help protect your tooth from breaking.
The longer you wait to treat the damage or infection in your tooth, the lower the chances of being able to save it. But now that these common beliefs have been disproven, you don't have to let myths keep you from getting the treatment you need.
About the Author
After completing his studies at Purdue University, the University of Michigan and the University of Detroit Mercy, Dr. J.D. Robison completed core curriculum at the Dawson Center for Advanced Dental Studies. He is also trained in advanced aesthetic reconstruction, which allows him the knowledge to provide his patients with crowns and veneers. If you believe you may need a root canal, contact the office at (734) 453-6320 or visit the website to schedule an appointment today.