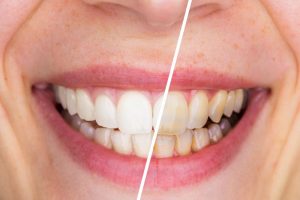 Are your teeth not as white as they used to be? Maybe drinking too much wine or coffee is to blame, or maybe your smile darkened because of an injury or medication. Whatever the reason, feeling self-conscious about the color of your teeth can keep you from smiling, talking, and laughing freely. With thousands of over-the-counter solutions each claiming to be better than the last, picking the right option can feel overwhelming. Instead of choosing one at random and hoping for the best, take the guesswork out of it and see your cosmetic dentist in Canton. Find out what your choices are for professional teeth whitening and why it's the best way to get the dazzling smile you want.
Why Should I Choose My Dentist Over a DIY Product?
You may think you're saving time and money by choosing a do-it-yourself teeth whitener, but these may only offer subpar results after weeks of use. Getting a teeth whitening treatment from your dentist in Canton is:
Safer and more effective. Even though DIY options use a lower concentration of bleaching agent, they can still cause gum irritation and tooth sensitivity. Your cosmetic dentist is trained to safely use a more powerful whitener for maximum effectiveness and comfort.
A faster process. An in-office teeth whitening treatment can give you a dramatically whiter smile in a single day! While at-home whitening kits from your dentist may take a week or two, they produce better results faster than any over-the-counter product.
Guaranteed to show results. A teeth whitening solution from your dentist isn't a gamble. Success rates for professional teeth whitening are over 90% and can last for two years or more!
What Are My Teeth Whitening Options?
To ensure that you're a good candidate for any type of teeth whitening, your dentist will first check for potential issues like gum disease that could cause you discomfort. Once your teeth and gums are healthy enough, you and your dentist will decide which service is right for you:
In-office whitening: At your appointment, your gums are protected with a rubber dam, and a whitening gel is applied. In 30 minutes, your dentist will clean it off and apply another round if needed. If you want same-day sparkling results, this is the option for you!
At-home whitening kits: Your dentist can also design custom whitening trays to use at home. These protect your gums from the diluted but effective bleaching agent they contain. If you want professional results from the comfort of your own home and don't mind waiting a few weeks, this option might be right for you!
With the help of your dentist, you can get the brilliant smile you've always wanted in no time. Professional teeth whitening in Canton is an easy and effective solution for revitalizing your pearly whites!
About the Author
Robison Dental Group in Canton, MI is proud to showcase the preventive, restorative, and cosmetic dental care talents of Dr. J. D. Robison. He studied at several universities and completed the core curriculum at the prestigious Dawson Center for Advanced Dental Studies. This training helps him pursue his passion, which is to improve the lives of his patients through their happy, healthy, beautiful smiles. To find out if a professional teeth whitening treatment can give you the smile you've always wanted, feel free to contact him at his website or (734) 453-6320.