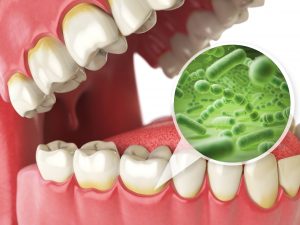 February is well-known for sweet treats and red hearts, but did you know it's an important month for another reason? It's also National Gum Disease Awareness Month. Although you might primarily focus on preventing tooth decay, your gum health is equally essential. The biggest threat to your gums is a preventable infection called periodontal (gum) disease. Not only can it wreak havoc on your smile, but it can also negatively affect your general health. This month is dedicated to raising awareness about the importance of gum disease treatment in Canton to invest in a healthy mouth and body.

What Causes Gum Disease?
Gum disease is an infection that occurs from bacteria found in plaque and tartar buildup. Although it can be prevented, the Centers for Disease Control and Prevention estimates at least 50% of adults in the U.S. have a form of it. It can be treated easily during the early stage (gingivitis) without experiencing any long-term complications; however, many people don't recognize the initial signs. As a result, it progresses until it adversely affects their oral and general health.
What are the Risks of Untreated Gum Disease?
The early signs of gum disease often appear as redness or swelling of the gingival tissue. Over time, your gums may even bleed when brushing or flossing your teeth. Although it might not seem concerning at first, eventually the infection will destroy the supporting structures of your teeth, which is why it's a leading cause of tooth loss.
The bacteria responsible for the infection can also enter your bloodstream. As it circulates throughout your body, it can increase your risk of several health concerns, like cardiovascular disease, respiratory infections, Alzheimer's disease, and diabetic complications.
How is Gum Disease Treated?
If you experience bleeding gums in Canton, don't wait to see your dentist for treatment. The first step is often a deep cleaning, which consists of two separate procedures, called scaling and root planing. The gingival pockets are cleaned, and the roots of your teeth are smoothed to discourage future buildup while also allowing the gums to heal. Depending on the severity of the infection, you may need additional treatments, like pocket or flap surgery.
Can I Prevent Gum Disease?
Although gum disease is common, there are several things you can do to prevent it, such as:
Brush your teeth at least twice a day for 2-minutes each session.
Floss every night before going to bed.
Visit your dentist at least twice a year for a cleaning and checkup.
Don't smoke or drink alcohol in excess.
Save Your Smile from Gum Disease
Gum disease doesn't need to be a death sentence for your smile. Your dentist in Canton has the solutions you need for a healthy mouth and body.
About Dr. J.D. Robison
Dr. Robison goes the extra mile to deliver the world-class services our patients deserve. Besides general dentistry, he also offers many specialty services, including periodontal therapy. He's completed advanced studies and postgraduate training to treat even the most complex issues. If you have gum disease, don't wait. Contact our office today for an appointment.