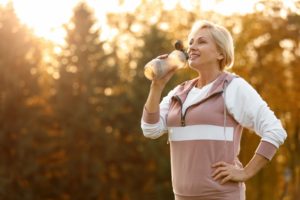 You're always busy, so it's tough to get to the doctor and the dentist as much as you should. Wouldn't it be great if an exam with one of them could have overlapping benefits for what the other one is there to help you with?
You might not realize that sharing the right information with your dentist will enable them to help ensure that your overall health remains excellent. Your general health can affect your oral health and vice versa, so your dentist needs to know about more than just how your teeth are doing.
In advance of your next appointment with your dentist in Canton, be prepared to answer questions about the following health factors.
Recent Illness or COVID-19 Diagnosis
Be sure to mention any time when you recently felt less than 100 percent. If you aren't doing well the day before your appointment, your dentist may prefer to reschedule you for a time you are feeling better.
Headaches or Pain in Your Jaw
Regular headaches or pain in the jaw or neck are all details your dentist will want to know. You may have heard of TMD, which is a disorder affecting your temporomandibular joint – the hinge joint between the temporal bone and lower jaw – and these are symptoms of it.
Bleeding or Tenderness in Your Gums After Brushing or Flossing
Gingivitis has symptoms including gum tenderness, bleeding, swelling, and a visibly red appearance. It is the first stage of gum disease, so even if this is just something you've experienced in the past, it is definitely worth mentioning.
Issues with Digestive Health
Dental health and gut health can affect each other. If you've experienced persistent digestive issues, let your dentist know. It may be due to your bite alignment, missing teeth, or bad oral bacteria that have made their way into your digestive tract.
Diabetes
Diabetes can cause trouble throughout your body, and that includes severely affecting your oral health. Diabetic patients are known to develop periodontitis, which is inflammation that can cause shrinkage of the gums and loosening of the teeth.
High Blood Pressure
Since this is the most common chronic cardiovascular health condition, it's no coincidence your dentist takes your blood pressure during routine checkups. Poor dental health and periodontal disease can elevate your blood pressure further and make your medication less effective.
New Supplements or Medications
Your dentist will want to know about any supplements or medications you are taking regularly. Medications can most commonly affect your oral health via dry mouth, which poses a threat to enamel and gums.
Daily Dental Care Routine
Of all the items on the list, this is probably the one you'd expect to be asked about. If your dentist understands how you are caring for your teeth each day, they can evaluate your risk for enamel erosion, gum disease, tooth decay, and other issues.
Being prepared to provide general health information at your next dental checkup will enable your dentist to take great care of your oral health and make decisions in the best interest of your general health, as well!
About the Author
For Dr. J.D. Robison, his favorite aspect of dentistry is having a patient walk into his office with a problem and leave without it. He understands the value of helping anxious patients feel comfortable while receiving their treatment. He wants to understand your goals for your oral health and assist you in fulfilling them. Dr. Robison completed the curriculum at the prestigious Dawson Center for Advanced Dental Studies. To schedule an exam so he can better understand your oral health situation or to learn about the dental services he offers, visit his website or call (734) 453-6320.