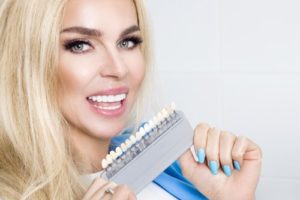 How do you feel when someone makes eye contact with you and gives you a genuine, warm smile?  Doesn't it make you feel good inside? But if that person's teeth are crooked or discolored, do you find that you're a little distracted by those flaws? We shouldn't judge people by their appearance, but as humans, we tend to base a lot of our feelings on what we see. If your own smile features a few crooked pearly whites, you might be thinking about getting braces. However, porcelain veneers in Canton might be an easier alternative.
How Do Porcelain Veneers Straighten Teeth?
Just to be clear, veneers do not move your teeth. However, they can dramatically affect the way your teeth look. They're thin pieces of porcelain that your dentist permanently attaches to the fronts of your teeth. Therefore, they can cover over your crooked grin with one that is ruler-straight.
That isn't all that porcelain veneers from your cosmetic dentist in Canton can do. They can also correct the following issues:
Discoloration
Teeth that are too small
Chips and cracks
Would It Be Better to Get Braces?
Because the veneers don't actually straighten teeth, you might wonder if you should tackle the heart of the problem by getting braces instead. While orthodontics are oftentimes an excellent solution for misaligned teeth, they aren't always necessary. If your smile isn't so misaligned that your crooked teeth are threatening your oral health, there is no real need for you to get braces.
Porcelain veneers offer a few advantages over braces:
It is easy to care for veneers; you won't have to worry about cleaning around metal brackets and wires.
It takes just a couple of visits to your dentist to receive veneers. You won't have to go back every few weeks to get an adjustment.
Porcelain veneers can last for ten years or longer if you are gentle with them.
In addition to straightening teeth, veneers disguise other cosmetic flaws.
Keep in mind, though, that if you do need orthodontics, you aren't doomed to traditional metal braces. Invisalign might be a more convenient and faster method to get your pearly whites where they belong.
Are Veneers Good for Oral Health?
In order to install veneers, your dentist will need to remove a thin layer of enamel from your teeth. Veneers are a lifelong commitment because you don't want to have them removed and expose your sensitive teeth to the ravages of foods and drinks.
However, when the veneers are on, they won't cause any problems for your oral health. You'll brush them with a non-abrasive toothpaste and take care not to consume a lot of foods that could stain them. With a good oral hygiene routine, your mouth should stay as fresh and healthy as it should be.
Not everyone with crooked teeth needs braces; porcelain veneers from your dentist in canton might be a better solution for you.
About Robison Dental Group
Dr. J.D. Robison is a Michigan native who is passionate about providing top-notch dental care for folks in his community. He also provides cosmetic dental services, such as porcelain veneers. If you're ready to get the smile you've always dreamed of, contact our office at 734-453-6320.