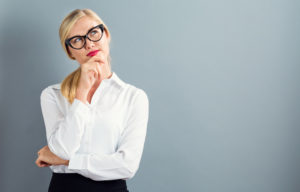 When you have an interview, you want to leave a great first impression. Looking and feeling your best is important for your confidence and it can also be a deciding factor for your interviewer.
According to a study carried out by the American Academy of Cosmetic Dentistry, survey results shows that a gorgeous, straight smile made people appear to be more intelligent, successful, and even wealthier than those with flawed smiles.
If you have a crooked smile, what's holding you back from fixing it and reaching your full potential? Now, advanced dentistry has made way for Invisalign: a modern way to discreetly straighten smiles!
I've never heard of Invisalign? How does it work?
Instead of using embarrassing, attention-grabbing metal brackets and wires to fix a misaligned smile, try Invisalign.
This system uses a series of practically invisible aligners to gradually shift your smile straight. You won't have to worry about making a bad impression or hiding your teeth during an interview. Not to mention, your tongue, gums, and cheeks will be safe from the threat of invasive metal braces.
Each set of aligners are custom crafted to fit tightly over the top and bottom arches of your teeth. Over the course of 9 to 18 months, the aligners will gently shift your teeth to the correct positions.
Am I a good candidate for Invisalign?
If you're worried about being hired, you're probably a good candidate for Invisalign. Typically, the best candidates for Invisalign are teens and adults. Your Canton dentist won't recommend this straightening treatment to children who's mouths are still developing.
If you're in high school, college, or full fledge in the workforce and want to fix dental common flaws, Invisalign may be the best option for you:
Fix a misaligned bite
Straighten crooked teeth
Fix an overcrowded smile
Correct a crossbite
Close gapped teeth
Fix an overbite
What Are the Benefits of Invisalign?
When you choose Invisalign, you choose to reap the benefits of this modern straightening treatment:
Having the ability to be removed for brushing, flossing, meals and special occasions (graduations, weddings, and other unique events).
Having the ability to keep your soft tissues and gums injury free.
Simplifying home oral hygiene and professional cleanings with your dentist.
Keeping your diet the same so you can enjoy the same foods.
Simply trading our aligners for the next in line rather than painful wire tightening appointments.
Dentistry has made many strides over the years—especially cosmetic dentistry. It's now prevalent more than ever to have a great lasting first impression. If you're considering this modern treatment, feel free to reach out to your dentist.
---
About Our Office
Do you want to smile in confidence? Fixing dental flaws like crooked teeth or gapped teeth is easier than ever when you choose to visit Drs. John and J.D. Robinson of Robinson Dental Group. We take a comprehensive approach by using some of the most cutting-edge technology and still practicing the traditional art of dentistry. If you would like to speak to either of our dental experts, feel free to contact our Canton office.