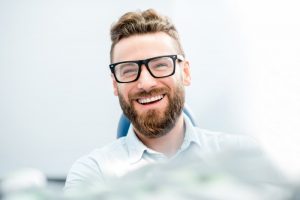 The holiday season has arrived, which is the period of the year when you'll spend time with family and friends and take tons of photos. Before you pose for any pictures, though, you'd like to make some improvements to your smile. As you read on, your cosmetic dentist explains how porcelain veneers help to improve gapped, crooked, crowded, misaligned or stained teeth.
What are Porcelain Veneers?
Several smile flaws can be masked with porcelain veneers, which are thin ceramic shells that are custom-crafted by your cosmetic dentist. The tooth-colored fixtures fit directly over the teeth in the smile zone, leaving them looking brand-new.
How are Porcelain Veneers Placed?
The placement of porcelain veneers usually takes two to three visits to complete. Here are the steps of the process:
Teeth Preparation – Your cosmetic dentist will first remove a thin layer of enamel from your teeth to allow the veneers to fit seamlessly into your smile line.
Bite Impressions Taken – Next, bite impressions of your teeth will be captured and used to create your veneers. Meanwhile, you'll be fitted with a temporary set of shells.
Fabrication of Permanent Veneers – Your smile specifications are then sent to an in-network lab that will fabricate the permanent veneers.
Final Placement and Adjustments – When they're ready, you'll return to your cosmetic dentist's office to be fitted with your permanent shells. The specialist will also check to make sure no final adjustments need to be made.
When you leave the office, you'll look and feel like a new person!
What are the Benefits of Porcelain Veneers?
Not only does a new set of porcelain veneers contribute to your self-esteem, but they will also make an impact on how other people view you. That means you could have better results when applying for jobs or attempting to close a deal in-person.
Additionally, you can expect to speak with more clarity and experience better digestion of your food with a more even bite.
Who's the Right Candidate for Porcelain Veneers?
A good candidate for porcelain veneers will be someone with excellent oral health and minimal smile flaws. Thus, when you visit your cosmetic dentist in Canton for a consultation, you'll receive a full examination to make sure there aren't any existing issues like cavities or gum disease that need to be treated first.
The precautionary steps are taken because, if ignored, any decay can eventually compromise your beautiful new smile. To schedule a consultation, reach out to your dentist in Canton today!
About the Author
Since earning his dental degree, Dr. J.D. Robison has remained committed to providing his patients with the most comprehensive and compassionate care available. To expand his knowledge and further hone his skills, he has received advanced training in cosmetic dentistry from Dawson Center for Advanced Dental Studies. Dr. Robison helps patients experience the smile of their dreams at Robison Dental Group, and he can be reached for more information through his website.