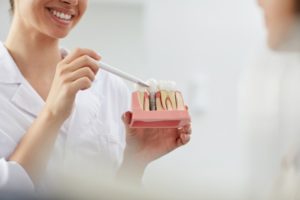 One of the best things about being an adult is arguably not having homework or needing to study for that big test. Even so, there are still times when even a bit of studying can be very helpful in the real world.
If you are considering talking to your dentist about getting dental implants in Canton, there are several terms it would benefit you to know in advance. You don't want to be like a kid at the Scripps National Spelling Bee, asking "Can I get a definition, please?" during every third sentence your dentist utters.
Read on to learn some dental implant terms you should know so you can see if this treatment sounds like a good fit for you.
Abutment
An abutment is attached to the top of your dental implant or built into it. Serving as a connector, it keeps the replacement tooth, crown, or bridge firmly in place.
Ceramic
Used to make dental implants, ceramic is a clay material that is hardened by heat. A ceramic implant is ideal for someone with a metal allergy. Especially when it is available in ivory, ceramic offers more of a natural look than a titanium implant.
Implant
A dental implant, also called a fixture, is placed into the jawbone to support a bridge, crown, or denture. Many dental implants can last for a patient's entire life. For an endosteal implant, which is common, the dentist will place small screws, plates, or cylinders into the jawbone during a surgical procedure.
For an eposteal implant, which is less frequently used nowadays unless a patient is at high risk of losing bone mass that's supporting the roots of their teeth, the implant rests directly on the jawbone to create support. For a subperiosteal implant, it sits on top of the jaw with the posts of the metal framework protruding through the gum to support the prosthetic tooth.
Osseointegration
This biological process is crucial to the success of an endosteal implant. When it occurs, a dental implant fuses with your existing bone to improve the strength of the bond between the two.
Titanium
Titanium melds with bone to produce a stronger, lasting implant. The material used for most modern implants, titanium is lightweight, strong, and few people are allergic to it.
Zirconia
This type of implant can be better for gum health than titanium. It is white, so it looks like a natural tooth. For the small percentage of patients who are allergic to titanium, zirconia offers an alternative.
Now, you are better prepared with that conversation with your dentist! You can spend more time taking in their suggestions and less time wondering what they are referring to. Choosing how to replace your missing teeth is an important decision, so be sure to ask any questions you might have during your consultation.
About the Practice
At Robison Dental Group, we are committed to exceeding your expectations with an enjoyable and reliable experience. To accommodate your busy schedule, we open as early as 7 a.m. on Thursdays and as late as 6 p.m. on Wednesdays. Even if you don't have dental insurance, we'll work with you on flexible financing. If you are suffering from missing teeth, Dr. J.D. Robison and his team offer dental implants, as well as dental bridges, and dentures. For a consultation to develop your treatment plan or to learn about other services, visit our website or call (734) 453-6320.