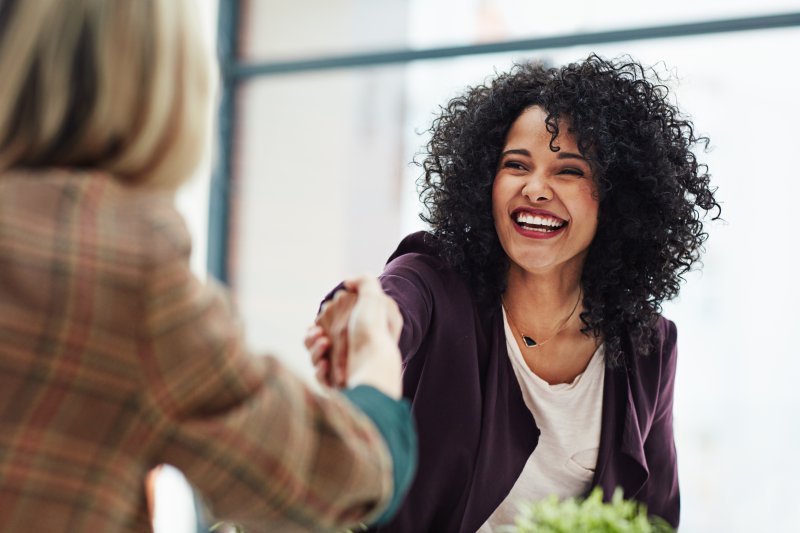 No matter what kind of career you're in, one of the most essential tools you can have is people skills. Whether you're talking to clients, coworkers, or even your supervisors, knowing how to appear friendly and personable is important to your success.
That can be easier said than done, but thankfully, there are some tried-and-true ways to come off better to others. Here are a few tips to help you seem a little bit more personable.
Become a Good Listener…
When getting advice about how to talk to others, one of the first things anyone will tell you is to become a good listener. This is excellent advice—people like talking about themselves, and appreciate it when someone takes an interest in them. You should make an effort to give people your full attention when they talk, and try to genuinely engage with what they're saying.
…AND a Good Talker
However, talking to someone is a two-way street, and most people feel a little bit uncomfortable dominating a conversation. It's helpful to have something you like talking about too. If you want to be more personable, developing hobbies and interests of your own will give you something to talk about when someone asks you about yourself. Balancing this with good listening is tricky, but mastering it will make you an excellent conversationalist.
Show Off A Smile!
You don't need to smile constantly at everyone you meet, but a well-timed grin when introducing yourself or when appreciating a joke conveys confidence and a sense of ease.
If you're uncomfortable with your smile, you may want to talk to your dentist about cosmetic dentistry. Teeth whitening, cosmetic bonding, and even veneers can all correct aesthetic imperfections in your teeth. Having a smile you'll be proud to show off will make you appear much more personable to others.
About the Author
Dr. J.D. Robison knows that not everyone is a fan of going to the dentist's office. He prides himself in his ability to show even the most anxious patients the power of high-quality dentistry, and helping people who are unhappy with their teeth to get a smile they can have confidence in. Dr. Robison has studied dentistry at Purdue University, University of Michigan, and University of Detroit Mercy. He's also completed the core curriculum at the Dawson Center for Advanced Dental Studies.
If you have any questions about how dentistry can improve how you come off to others, he can be reached at his website or by phone at (734) 453-6320.