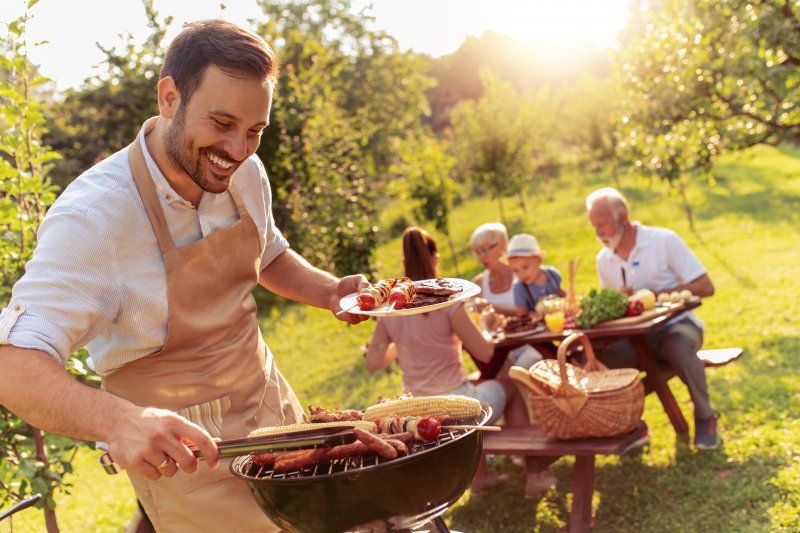 Are you recovering from dental implant surgery this summer? Protect your fun in the sun by taking extra good care of your new implants as you heal! The last thing you want to derail your plans is an emergency trip to the dentist! This summer is one to remember, but let's make sure it's not for the wrong reasons. From holidays to celebrations, you're going to want to enjoy your favorite treats and drinks. But if you've just gotten dental implants, here are 3 summer foods you should avoid.
#1. Hot Dogs
The smell of a hot dog on the grill in your backyard brings back memories of childhood, the fair, and the Fourth of July. However, if you are still healing from getting dental implants, you shouldn't be eating hot dogs at least until your recovery period is over.
Unfortunately, this crowd-favorite summer indulgence is loaded with processed saturated fat. This feeds the bacteria in your mouth and can lead to gum inflammation, which is bad for a healing implant. It might be hard to resist this summer favorite, but your dental implant will thank you for it in the long run!
#2. Corn on the Cob
Cookout season wouldn't exist without corn on the cob. From barbeques to seafood boils, this delectable crunchy treat is a staple at every summer gathering. Unlike traditional tooth replacement options like dentures and dental bridges, dental implants can easily handle corn on the cob! However, this is only true after they've fully fused with your jawbone.
Until you've had at least a month to heal, you need to be careful about how you eat your corn. Instead of eating directly off the cob, try slicing the kernels off and carefully enjoying them that way.
#3. Sticky, Chewy, or Sugary Treats
Anything sticky or chewy can adhere to your implant and dislodge it before it's properly bonded to your jawbone. Plus, these tasty treats will likely get stuck in hard-to-clean places around your dental implant. The sugar in them will promote bacteria growth and increase your risk of infection.
If you choose to indulge during the recovery process, choose softer options! Then, drink plenty of water to wash away the residual sugars.
Once fully integrated into your jawbone, your dental implants will allow you to enjoy your summer BBQs, cookouts, and family gatherings to the fullest once again! In the meantime, stay away from these three foods to keep your treatment on track.
About the Author
There's nothing Dr. J.D. Robison loves more than preserving and protecting patients' smiles. One of the focuses of his extended education is in dental implants. The team at Robison Dental Group understands that missing even one tooth can chip away at your self-esteem, but the practice is partnered with the best dental implant experts in Canton to rebuild both your smile and confidence. If you want to know more about what you can and can't eat with dental implants, contact Dr. Robison at his website or by phone at (734) 453-6320.