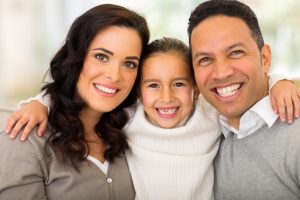 Wouldn't it be great to find a dentist who can build a relationship with your entire family? It saves you time and stress when you can take the entire family to one place for their dentistry instead of having to drive all over town for different appointments. Dr. J.D. Robison, your family dentist in Canton, wants to take the guesswork out of choosing the right provider and invite you to check out Robison Dental Group. Here are some of the family friendly services you'll find when you choose Dr. Robison for your dental care.
Children's Dentistry and Orthodontics
We love to see children at Robison Dental Group! Our entire team is dedicated to making your child's dental visits exceptional so they will look forward to their future appointments. Kids should see Dr. Robison every six months just like our adult patients so we can monitor their oral health and development.
If and when the time comes to straighten your child's teeth, Robison Dental Group provides orthodontic services. This is a great benefit to our patients as it allows Dr. Robison to monitor your child's oral health during their orthodontic treatment. Imagine the convenience of completing your child's orthodontic adjustment and dental cleaning all in one visit!
Sedation Dentistry
For our patients who feel fear or anxiety about their dental appointments, we want you to know that we understand how you feel. We never want fear to deter our patients from getting much needed dental care, so we offer options for dental sedation to help you feel relaxed and at ease during your dental procedures.
Sedation dentistry uses different techniques to help patients feel comfortable and in some cases, complete multiple procedures at one time. Dr. Robison is happy to discuss your needs and concerns with you to determine if sedation dentistry is right for you.
Comprehensive Care
At Robison Dental Group, we strive to meet all your needs under one roof by offering comprehensive dentistry you may not find at other practices. For example, if you're living with a missing or failing tooth, a dental implant may be the right solution for you. While many dentists refer their patients out for the surgical portion of their implant treatment, Dr. Robison is able to handle the entire procedure from start to finish here at our office, so you'll always be working with the team you know and trust.
Contact Robison Dental Group
If you're looking for a provider who can meet the entire family's needs and provide comprehensive care, look no further than Dr. Robison. Give Robison Dental Group a call to schedule your next appointment.