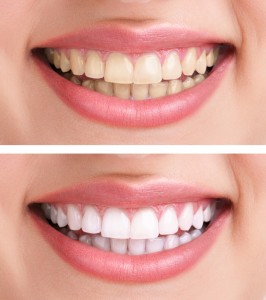 Walk in to almost any supermarket, pharmacy or big box store and you're sure to find a slew of teeth whitening products. The question is do they work and are they worth the money? That all depends on how deeply your teeth are stained and how quickly you'd like to improve the appearance of your smile. Dr. Robison is the dentist in Canton who is willing to have a frank discussion about your many options for teeth whitening. Read on to learn the facts.
Does Whitening Toothpaste Actually Work?
The short answer to that question is yes… if your smile is marred only by extrinsic stains that are on the enamel surfaces of teeth. Whitening toothpastes contain mild abrasives that polish your teeth, thereby removing surface stains. However, intrinsic stains—those that have penetrated the enamel and discolored the dentin below—are not affected by whitening toothpastes. For tough extrinsic stains, there are prescription strength toothpastes. Speak to Dr. Robison to learn more.
Are Whitening Strips Any Good?
Over-the-counter whitening strips do a reasonably good job of bleaching your teeth and removing stains if your teeth are not too discolored. Whitening strips contain a low concentration of hydrogen peroxide that is safe for home use. Results vary, however, because the shelf life of bleaching solution is limited. Therefore, you may not be using the product at full strength.
What Are Dr. Robison's Teeth Whitening Solutions?
Dr. Robison offers two types of teeth whitening services: an in-office treatment or a take-home whitening kit. If you have a special occasion on the calendar soon—a wedding, graduation, high school reunion or even an important presentation at work—then choose our in-office treatment. In just one visit, your smile will be several shades whiter. At the dentist's office, we can safely use a bleaching solution at a higher concentration than anything you use at home. Our dental hygienists apply a protective coating to your gums and then whitening gel goes on your teeth. In less than an hour, your smile is dramatically whitened.
Alternatively, we can give you custom-fitted mouth trays and bleaching gel. Fill the trays with gel according to Dr. Robison's instructions and wear them daily for about two weeks. Your teeth will whiten more gradually, but the finished results will be as dramatic as those achieved in the office.
Contact Our Office Today
There are several ways to whiten your smile. To find out which one is best for you, schedule an appointment with Dr. Robison. Robison Dental Group in Canton, Michigan serves patients from Ann Arbor, Northville, Westland, and Plymouth.