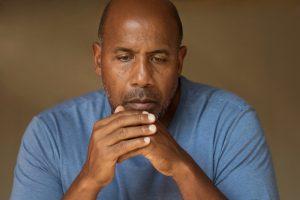 What would it feel like to walk into your favorite restaurant and order whatever you like without thinking twice about it? Most of us take this freedom for granted, but when you live with a missing tooth you may not be able to properly chew and eat the food you once enjoyed. When you're missing a tooth it's always on your mind, and what's worse is when fear holds you back from getting much needed dental care. Dr. J.D. Robison, your dentist in Canton, has great news for you! We can restore your smile and ease your fears. Here's more information about implants and sedation dentistry in Canton.
Dental Implants
Known as the gold standard in dentistry for replacing a missing tooth, a dental implant is a very reliable and successful treatment that restores both your root and your tooth. A titanium post is surgically placed into your bone, and given time to heal and integrate with your bone. This sets up a firm foundation for your new tooth, or porcelain crown that will be custom designed by Dr. Robison to match your existing teeth and complement your smile.
Best of all, Dr. Robison is able to complete your implant procedure from start finish at our office. Dr. Robison has advanced training that allows him to both place and restore your dental implants in Canton, which means you'll always be surrounded by the team you know and trust. This is a great benefit to our patients as many dentists refer their patients to a specialist for the surgical placement of the implant.
Sedation Dentistry
Getting an implant surgically placed sounds like a big procedure for even the bravest patients, however Dr. Robison offers oral sedation for patients who experience fear anxiety around their dental appointments. He'll prescribe medication that you take one hour before your procedure and while you'll still be conscious and responsive, you'll feel completely relaxed and have little to no memory of your appointment. You may even feel like you were sleeping.
Oral sedation helps many of our patients receive the dental care they need, while feeling relaxed and at ease in the chair. You'll need to arrange for a ride to and from your appointment, and because of the nature of the medication, you'll want to plan on relaxing after surgery rather than resuming normal activities.
Contact Robison Dental Group
Don't let your missing tooth or fear keep you from getting dental care! Want to learn more about implants or sedation? Contact our office today.