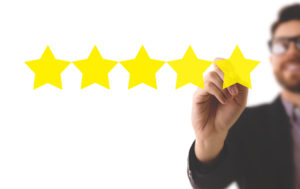 When you're trying to choose a dentist in Canton, one of the best things you can do is get the perspective of past and present patients. After all, dentists are businesspeople, and of course they're going to claim that they offer the services and compassion that you need and deserve. But the truth always comes out in consumer reviews. We're proud to say that our patients consistently give us 5 stars. Why is everyone so eager to praise us?
Personalized Care, Personal Interest
37 out of the 37 reviews of our practice on Google offer 5-star praise. One of the reasons why we've earned such acclaim is the kind, personalized care that Dr. J.D. Robison offers to each patient. Here are a few comments from our patients about the way he treated them:
"Dr. JD… is seriously the best.  He is kind, patient, and explains everything he is doing.  He goes out of his way to make sure you never feel a thing!  Plus you get little treats, a blanket, and a pillow for your legs!  if that's not enough, Dr. JD often calls the night after a procedure to make sure you are still ok.   He really loves what he does!" — Diana Woodward
"Dr. JD explained exactly what was happening along the way and paused frequently to ask how I was doing to ensure I experienced no discomfort. I take my children to the office as well and I can't say enough good things about the care they have received. They walk in and out happy and so do I." — Kendall G
Friendly Staff and Welcoming Environment
It isn't just Dr. Robison who is interested in making sure that our patients love coming to visit us. Everyone in our office, including the hygienists and assistants, are committed to caring for your smile — and the rest of you too. Here's what people say about their overall experience in our office:
"Not everyone likes to go to the dentist but the staff at Robison Dental Group will make it a great experience for everyone. What I like the best is that they always greet with you a smile and right away that puts you at ease." — Erika Laszlo
"Everyone was super friendly and helpful such as the receptionist, hygienist and dentist. They really cared about my comfort and health." — Lisa M.
"It is obvious that they are using the most recent technology in dentistry. The entrance/waiting room is decorated so beautifully that my son and I thought that we walked into the wrong office." — Jeannine Makowski
Do You Want a 5-Star Experience?
If you are tired of dreading your dental visits, please give us a try. We offer a wide range of dental services, from basic prevention to advanced treatments that are designed to help your oral health recover from even serious problems. We also offer cosmetic services, Invisalign, TMJ headache prevention, and sedation dentistry.
If you have questions about our office, Dr. Robison, our staff, our policies, or anything else related to what we do, please don't hesitate to contact us at 734-453-6320.