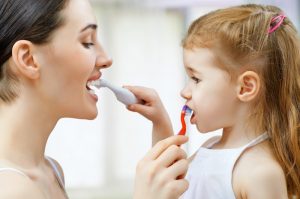 This October is National Dental Hygiene Month, making it a good time for dentists to remind their patients of the importance of taking good care of their mouths – especially when considering all the extra candy your family is likely to have around Halloween! Everyone knows that brushing, flossing and scheduling a regular dental checkup and teeth cleaning in Canton are all important; here are just 5 of the benefits you can enjoy by practicing excellent oral hygiene.
1. Preventing Cavities
As you probably know, cavities can pose a serious threat to your oral health. Untreated decay can eventually cause sever pain in your tooth, and you might even lose it altogether. While cavities can be repaired via a dental filling, it's better to prevent the issue altogether by making sure your pearly whites stay clean.
2. Healthier Gums
Brushing and flossing will keep the harmful bacteria in your mouth under control and remove the leftover food particles that feed them. With poor dental hygiene, however, bacteria will build up and form a substance called plaque that, if not removed, can cause inflammation in your gums. Gum disease can cause painful swelling and bleeding, and the advanced stages can easily result in tooth loss.
3. Lowering the Risk of Heart Problems
Gum disease may allow oral bacteria to enter your bloodstream, allowing it to attack other parts of your body, including the heart. Multiple studies have shown that gum disease may increase your risk for heart attacks, strokes, and other cardiovascular complications. By maintaining good oral health, you may just be protecting your heart from a potentially life-threatening condition.
4. Avoiding Pregnancy Complications
There is evidence that suggests gum disease may be connected to preterm birth and low birthweight; in other words, it could increase the risk of your baby being born too early or weighing less than it should. Both of these issues could lead to serious health problems for your little one.
5. Healthy Lungs
When there's a lot of bacteria in your mouth, you're more likely to inhale some of them into your lungs, which can cause a respiratory infection; in particular, it could even lead to pneumonia, one of the leading causes of death in the United States. Seeing your dentist in Canton on a regular basis and other oral hygiene practices will help you manage bacteria levels, allowing you to continue to breathe easy.
Remember, dental hygiene is a concern for everyone in your family. During your next visit to the children's dentist in Canton, take the time to talk about your family's oral health habits and where there might be room for improvement. Doing so will let you and your loved ones look forward to a much healthier lifestyle!
About the Author
Dr. J.D. Robison is following in his father and grandfather's footsteps by helping patients solve their oral health problems in a very personalized way. At his practice, the Robison Dental Group, he takes extra care to make sure anxious patients feel relaxed and comfortable while receiving treatment. To schedule a hygienic teeth cleaning, visit his website or call (337) 474-3636.