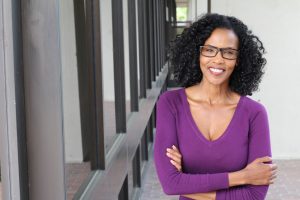 Your smile is one of your best features because it's one of the first things people notice when they first meet you. A beautiful smile portrays happiness, confidence and success. Are you satisfied with the appearance of your teeth? What does it say about you? Can it take you to the next level in your career and personal life? If there are aspects of your appearance you'd like to change, Dr. J.D. Robison has solutions for you! Cosmetic dentistry and dental implants in Canton – options for a better smile.
Dental Implants
If you live with one or more missing teeth, you understand the daily challenges it can cause. Eating the healthy foods you would normally enjoy becomes difficult, while talking and smiling may feel embarrassing. Unfortunately, it's not just your confidence that's being affected, but also your oral health. Missing a root causes your bone to resorb, or deteriorate, which can lead to more tooth loss. Your healthy remaining teeth are also at risk for shifting into the open space left by your missing tooth.
Dental implants replace both your root and your tooth, which protects the integrity of your smile and your oral health. A biocompatible titanium post takes the place of your root, while a high quality porcelain crown replaces your tooth. Implants offer you beauty and function because they closely mimic your natural tooth. They're durable and easy to care for, as you'll be able to brush and floss like you normally would. They also offer great longevity, because with regular dental check ups and excellent home care they can potentially last a lifetime.
Porcelain Veneers
For patients looking to enhance or repair their smile, dental veneers are a great option. Fabricated from a thin layer of porcelain, a veneer is designed to bond directly to your natural tooth. Veneers can cover, or repair a number of issues such as chipping, wear, fractures, gaps, misshapen teeth, and discoloration.
You can repair a few teeth, but veneers are best utilized to enhance an entire smile. This is because they're durable, long lasting, and stain resistant, so you won't have to think about whitening or updating your smile again for many years.
If you're dissatisfied with the appearance of your smile, Dr. Robison is here to help! With thousands of hours of advanced training he possesses the skill and artistry to create the smile you've always dreamed of. If you struggle with missing teeth, he can guide you through implant treatment from start to finish, so you never have to go elsewhere for care.
Let us help you get your smile to the next level! Call us today to schedule your appointment.