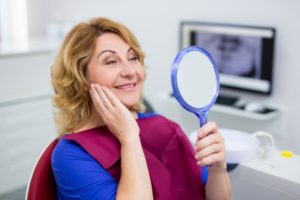 Affecting more than half the adult population in America, gum disease is the inflammation and infection of the soft tissue in the mouth. It turns out there can be several factors that increase the chances of developing the condition. As you continue reading, a dentist in Canton lists the top 6 factors that contribute to gum disease.
#1 – Age
According to the Centers for Disease Control (CDC), 70% of Americans age 65 and older have some form of gum disease. While it's not a given that people will develop the condition once they reach a certain age, it obviously increases their susceptibility. The statistical reality further demonstrates the importance of people being more proactive about their dental care as they get older.
#2 – Tobacco Usage
Unfortunately, nothing productive comes from tobacco usage of any kind. Whether chewed or smoked, it releases harmful toxins that flood the mouth, causing accelerated oral bacteria growth. The more bacteria that are present, the greater the risk of gum disease developing. The ultimate solution is to avoid tobacco usage altogether.
#3 – Genetics
Do you have a family history of gum disease or diabetes? If so, research shows that you may be more vulnerable to having gum health issues. However, you shouldn't assume that your fate is sealed. Instead, it should be a reminder of how important it is to diligently care for your teeth and gums and maintain regular dental visits.
#4 – Stress
Chronically elevated stress levels can lead to several problems, including hypertension, heart disease and cancer. Additionally, there is evidence of heightened stress contributing to gum disease. The core issue is that the hormonal changes associated with continued stress weakens the immune system, which leaves the gums more susceptible to infection. This shows the significance of developing adequate coping mechanisms for life's ups and downs.
#5 – Medications
Certain medications can cause a condition called "dry mouth," which refers to a decrease in saliva production. Under normal conditions, the fluid helps to wash away leftover debris from eating and drinking. Thus, the drier the mouth is, the more bacteria that are present that can lead to plaque growth and, potentially, the development of gum disease. This is something that should be brought to a physician's attention so that any necessary medication changes or dosage adjustments can be made.
#6 – Poor Nutrition
Maintaining a diet high in sugar is a sure way to increase the number of bacteria in your mouth. If you have a sweet tooth, it's better to substitute fruits for candy, pastries and other snack items. The naturally occurring sugars in fruits are far less detrimental to your gum health, and you'll also benefit from the array of nutrients they contain.
One of the simplest ways to fortify your gum health is to commit to brushing and flossing at least two times a day. Additionally, make it a point to visit the dentist every six months for cleanings and checkups. By remaining consistent in these areas, you can greatly decrease your gum disease risk factors and enjoy a healthy smile well into the future!
About the Author
Dr. J.D. Robison earned his dental degree from the University of Detroit Mercy. Not one to rest on his laurels, he has received additional training from the prestigious Dawson Center for Advanced Dental Studies. Dr. Robison's dedication to excellence allows him to effectively treat gum disease at Robison Dental Group, and he can be reached for more information or to schedule a visit through his website.