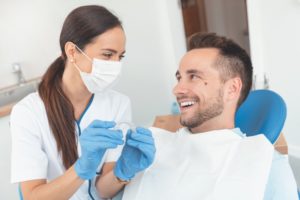 After years of feeling self-conscious of your crooked teeth, you've finally decided to do something about it. Instead of metal braces, you're more interested in Invisalign for its discreet and often quicker treatment. When it comes to your smile, though, it's crucial to select a dentist you can trust. To learn more about how to find an Invisalign provider in Canton, keep reading below as we lay out five things to look for.
1. Qualifications and Experience
With more and more dentists are offering Invisalign these days, it's important to decrease your pool of potential providers by checking their background. Where did they earn their degree in dentistry? Have they undergone any advanced Invisalign training? Do they belong to any professional dental associations? Answering these questions (which can usually be done by looking at a doctor's bio page on their website) is a great way to narrow your search.
2. Positive Reviews
Reading unbiased, honest reviews from real patients will give you insight into what your treatment process will actually be like. If you can find any reviews about Invisalign in particular, that will give you even more pertinent information about what to expect.
3. Before and After Photos
It's one thing to read reviews from patients; it's another entirely to see the results of their treatments for yourself. Many dentists have a smile gallery on their website featuring cases they're proud of. Try to find a patient whose teeth in their "before" picture look similar to the way yours do now. You can expect your end results to be comparable to theirs.
4. Convenient Location
Throughout Invisalign treatment, you'll have to visit your dentist every six to eight weeks to receive new aligners and make sure everything is proceeding smoothly. That's why it's important to choose an Invisalign provider with a convenient location. Ideally, they should be close to your home or workplace.
5. Financial Options
Oftentimes, Invisalign is not eligible for a lot of dental insurance coverage, so you should make sure a potential provider has other financial options. For example, third-party financiers like CareCredit can help you split up your treatment costs into low monthly payments based on credit approval.
By moving forward with the Invisalign process, you're making one of the best decisions you could make for your smile. Keep these things in mind during your search, and you'll have a rewarding experience and attractive, long-lasting results!
About the Author
Dr. J. D. Robison is an experienced dentist who studied at Purdue University, University of Michigan, and the University of Detroit Mercy. Since then, he has completed extensive post-graduate training in Invisalign as well as traditional orthodontics. Through his memberships in various professional organizations, including the Academy of Comprehensive Esthetics and the International Academy of Comprehensive Esthetics, he stays updated with the latest advancements in the field of dentistry. To find out if Dr. Robison is the best Invisalign provider for you, contact his office at 734–453–6320.