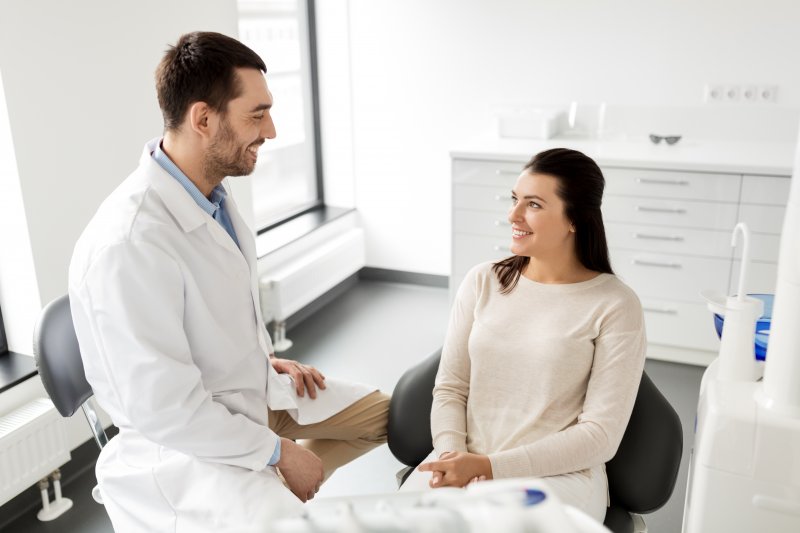 In addition to getting your teeth professionally cleaned and examined for oral health issues, your regular dental visit also has an educational aspect to it. If you have a question about your oral health, chances are that your dentist will have an answer and some helpful advice. However, it is usually your dentist in Canton asking all of the questions. To change it up, here are some questions that you may find helpful so you can learn more about how you can best take care of your smile.
What Can I Do to Improve My Oral Health?
When you go to the dentist, you normally with have a professional cleaning and examination to make sure that everything is looking okay in your mouth. Your dentist or hygienist will let you know about trouble spots that you need to work on, but this is also your chance to ask any questions about what you can do better. Try discussing brushing and flossing techniques with your hygienist or dentist in order to keep your mouth as clean and healthy as possible.
What Products Should I Be Using?
If you're using the wrong tools, you could be doing more harm than good when it comes to keeping up with your oral hygiene. Ask your dentist which dental products they recommend that you should be using. Discuss different types of toothbrushes, toothpastes, mouthwashes, or any other product you are curious about. They will be able to best advise you on what you should be using to take care of your smile.
Which Foods Should I Steer Away From?
As you already know, some foods and beverages can cause damage and staining to your teeth if you are consuming them too often. Ask your dentist about the best and worst things you can have for your smile. This way, you know what to add into your lunchbox and which things you should save for special occasions so that you aren't putting your oral health on the line.
How Can I Feel More Confident About My Smile?
Seeing your dentist isn't just about how your teeth function. They want to help you feel great about every aspect of your smile, including how it looks. By addressing insecurities that you have about your smile with your dentist, they will be able to discuss possible solutions.
What Financing Options Do You Have?
You don't want to leave your appointment only to be surprised by a big bill. Ask your dental team whether or not they accept your insurance plan. If you don't have dental insurance, see what their other financial options are. Getting essential care shouldn't leave you stressing about money.
Don't forget to ask questions during your next visit. You can make the most out of your regular appointments by learning more about how to maintain good oral health and a beautiful smile.
About the Author
Dr. J.D. Robison studied at Purdue University, University of Michigan, and University of Detroit Mercy. He has also completed the core curriculum at the prestigious Dawson Center for Advanced Dental Studies and underwent training at the Las Vegas Institute. He would be happy to answer any questions you may have about your oral health. For more information or to schedule an appointment, visit his website or call (734) 453-6320.