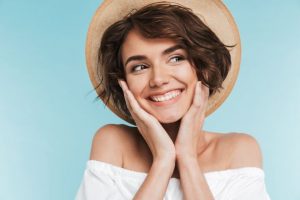 Almost everybody wants a brighter, more beautiful smile. One way to achieve this goal is with dentist-supervised teeth whitening in Canton. It uses prescription-grade products and methods to remove stains and discoloration, making your pearly whites whiter than they've been in years. Most dentists offer both in-office and at-home options for their whitening patients.
Why Do Teeth Need Prescription Whitening?
Most foods and beverages contain tiny color pigments called chromagens. These are made up of several molecules linked together to create a particular hue or tone. Over time, they can collect on our teeth, causing stains and discoloration.
Sometimes chromagens can be removed using whitening toothpastes and other basic measures. Other times, however, they penetrate into the deeper layers of the enamel, requiring more advanced treatment.
This is where prescription teeth whitening comes into the picture. It uses concentrated products to break up chromagens into smaller, less colored molecules, bringing out your enamel's natural beauty.
What to Expect during a Prescription Teeth Whitening
Dentist-prescribed teeth whitening can take one of two forms: in-office treatment or at-home care. With the in-office approach, the patient can simply relax in a dental chair. A dentistry professional will apply the formula to the teeth, either in the form of strips or a custom-fitted tray containing whitening gel.
Total treatment time can take as little as 30 minutes, depending on the patient's smile enhancement goals. Darkly stained teeth may take a little longer.
At-home prescription whitening is another option. Your dentist will outfit you with all the supplies you need: tray, gel, etc. Achieving your whitening goals typically takes a little longer with this approach. However, you'll enjoy the convenience of using the products in the privacy and comfort of your own residence.
What to Expect after Prescription Teeth Whitening
Some patients may notice that their teeth are a little more sensitive than usual after whitening. This usually goes away quickly.
You should watch what you eat for the first 2-3 days after a whitening treatment. Your dentist will recommend avoiding strongly colored foods such as red wine, tea, coffee, and tomato-based products. Otherwise you may undo the whitening effect.
"Prescription" Versus "Professional:" It's Important to Know the Difference
You've probably seen ads for non-prescription whitening formulas. Unfortunately, sometimes the makers of these products use misleading terms in their marketing efforts. A common tactic is to use the word "professional" in reference to the product.
It's important to understand that "professional" is not the same thing as "prescription." No over-the-counter product can equal dentist-prescribed treatments; it's as simple as that.
 The Final Word
Only your dentist in Canton can tell you if prescription teeth whitening is the solution you're looking for. Talk to him or her about your options during your next appointment. That's the best way to reach your smile enhancement goals. We wish you and your loved ones all the best.
 About the Author
Michigan native Dr. J.D. Robison is a third-generation dentist with advanced training in aesthetic and reconstructive techniques. He offers a full range of cosmetic services for his valued patients, including teeth whitening. You can reach his office online or by calling (734) 453-6320.