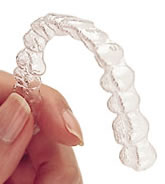 Lots of people want to know how long Invisalign in Canton takes to produce results. The answer to this question depends on the degree of treatment needed and the amount of time the appliance is worn per day. In most cases, patients are able to obtain their alignment goals in about 12 months. Your dentist can give you a closer time frame during your upcoming consultation.
Factors That Can Affect the Length of Invisalign Treatment
Invisalign provides a customized approach to teeth alignment for each patient. It does this while allowing the wearer to remove the appliance as needed for up to two hours per day. Invisalign aligners are low-profile and makes traveling easy.
The fact that Invisalign aligners are so user-friendly makes it difficult to say how long the course of treatment will last, however. Here are some factors that can affect the total:
The number of hours per day the patient wears the appliance. 22 out of every 24 hours is typically recommended.
The degree of alignment needed. While any case of misalignment is serious, the amount of correction needed varies from one person to the next. Advanced cases typically require longer treatment.
The overall state of the person's oral health. Sometimes dental alignment issues are accompanied by other problems, such as missing or sensitive teeth. Taken together, these conditions can affect the length of therapy.
How to Help the Invisalign Process Go Faster
There are some ways that Invisalign wearers can help to speed up the treatment experience. These include:
Remember to replace the aligner after eating or performing personal tasks. This is sometimes easier said than done. Some people remove the product during meals and forget to reinsert it afterwards. One way to manage this problem is to keep the appliance in the included storage tray when not in use.
Handling the aligner properly. Invisalign products are crafted from clear acrylic, which is lightweight and comfortable. But it's easy to damage the product by exposing it to heat or bending it during insertion or removal. Follow your dentist's recommendations to avoid this issue.
Following basic self-care steps. You should brush and floss daily, eat a healthy diet, and see your dentist as recommended throughout the course of treatment. Failure to practice good oral hygiene can make Invisalign less effective.
Cleaning the product as directed. It's important to rinse the aligner on a regular basis to remove saliva, food crumbs, etc. You should also clean it daily using a soft bristle toothbrush and antimicrobial soap.
Following the recommended schedule for switching aligners. Remember to upgrade to the next set in the series as directed.
Bringing a couple of extra sets with you when you travel. That way, you'll always have a set on hand if the one you're using is damaged or misplaced.
Invisalign is a gentle, effective way to achieve your alignment goals in a reasonable amount of time. Like any form of dental therapy, it works best when used as directed. Use the product in accord with the recommendations of your dentist in Canton and you'll soon enjoy a more beautiful smile and a better life.
About the Author
Dr. J.D. Robison is a skilled general, cosmetic, and restorative dentist with a passion for learning and a heart of compassion for those suffering from dental health conditions. You can reach his office online or by calling (734) 453-6320.