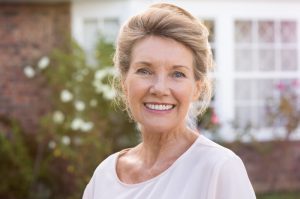 A dental crown is a cap or cover that partially or completely covers a damaged or decayed tooth to strengthen it. Its main role is to protect your tooth from future damage, but it also maintains the natural appearance of your smile. Dental crowns can be made out of various materials, but some of the best crowns are made with dental porcelain. Keep reading to learn some of the amazing benefits of porcelain crowns in Canton.
Why Porcelain is the Best Material for Dental Crowns
Porcelain crowns are not only strong and durable, but they're an aesthetically pleasing dental restoration. This blurs the lines between cosmetic and restorative dentistry because it improves your dental health, but it also enhances your smile's appearance. Porcelain crowns are often turned to as a solution for damaged or decayed teeth, but they can also be used to help the appearance and function of misshapen areas of your smile.
The Benefits of Porcelain Dental Crowns
Patients see many benefits after getting porcelain dental crowns, but here are some of the biggest advantages:
Natural Appearance
Crowns can be made from a lot of different materials like gold, steel, ceramic, and resin, but porcelain is the best. It is semi-translucent, and it looks and feels the most like your natural teeth compared to other materials. Additionally, because your tooth is damaged or decayed, it will restore your smile's natural beauty with a pearly white color.
Matching Your Smile
One of the biggest advantages of using dental porcelain is that it can match the exact color of your smile. Your dentist in Canton can choose the color, size, and shape of your porcelain crown to make it seamlessly blend in with your grin.
Strength
Dental porcelain is surprisingly strong, and with proper care, it can last up to 15 years. This is a much longer lifespan than some of the other materials used in dental crowns.
Safety and Protection
Besides its aesthetic advantages, a porcelain dental crown also protects your decayed tooth from future damage. Because decay exposes the more sensitive parts of the inside of your tooth, the crown can actually prevent and eliminate tooth sensitivity you may be feeling when eating or drinking extremely hot or cold foods.
Function
Because your porcelain crown is custom-made, it will integrate into part of your smile and allow you to chew better and even speak more clearly.
Now that you know all of the benefits that a porcelain dental crown can bring to your smile, does it sound right for you? Talk to your dentist to restore the beautiful look and vital function back to your grin.
Meet the Dentist
Dr. J.D. Robison enjoys providing quality dentistry to his patients. He stays up-to-date on the latest in dentistry through extensive additional training and continuing education courses. He likes offering porcelain dental crowns as a way for patients to strengthen their smile while improving its look. He currently runs his own practice, and he can be contacted through his website or by phone at (734) 453-6320 for any questions.