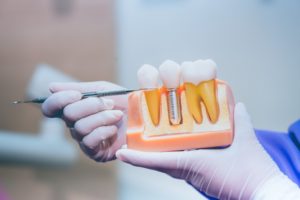 The advancement of dental technologies and techniques have made tooth-replacement options much more reliable and long-lasting. But dental implants are considered the gold standard. They are the only ones that recreate the entire structure of missing teeth. But how long can you expect your complete smile to last? The answer might surprise you! Here's everything to know so you can get the most out of your dental implants for as long as possible.
How Long Do Dental Implants Last?
To get straight to the point, dental implants can last a lifetime with proper care. Traditional dentures and dental bridges only replace the outer shiny white crowns of missing teeth. In contrast, implants replace the entire tooth structure, including the roots. This creates incomparable stability and longevity since they have a firm foundation in your jawbone. With proper maintenance and maintaining your biannual dental visits, you can expect your new smile to last throughout the decades of your life!
Here are the precise factors that allow dental implants to be such a long-lasting solution for a renewed smile:
Osseointegration: Titanium is biocompatible, meaning it integrates easily with bone tissue. After your implants are placed, they will bond with your jawbone and become one with it, providing a solid foundation for your new teeth.
Unique placement: Unlike traditional restorations that rely on your gums or healthy neighboring teeth, dental implants are directly anchored to your jawbone, as stated above. This placement mimics natural roots, allowing you to enjoy a lifelike solution for your missing teeth.
Jawbone support: Your jawbone can begin to deteriorate when you begin to lose teeth. Dental implants help stimulate blood flow into your bone tissue. The stronger the jawbone, the sturdier your implants will be!
How Do I Properly Care for Dental Implants?
Just like your natural teeth, dental implants require concerted care. Here are some suggestions to help you prolong the life of your dental implants:
Maintain Good Oral Hygiene: Even though your replacement teeth aren't susceptible to decay, the tissue around it is more likely to develop periodontal (gum) disease than the other soft tissue around your natural teeth. Brushing twice a day for at least two minutes and daily flossing are a must to keep your implants in good shape.
Avoid Smoking: Nicotine buildup from smoking negatively influences the blood supply to your gums. This increases your chances of dental implant failure and is often a huge contributing factor when an implant isn't successful.
Use Caution: There won't be any food restrictions after your implants have finished healing, but you should still be especially careful when consuming things that are particularly hard or sticky. Do not use your teeth as tools for opening or cutting things because you could damage your implant.
Dental implants are a wonderful way to complete your smile when you are missing teeth. With proper care and regular checkups with your dentist, you can count on them to last for years to come!
About the Author
Dr. J.D. Robison serves the families of Canton and the surrounding areas. He has extensive post-graduate training, including completing the core curriculum at the prestigious Dawson Center for Advanced Dental Studies. With a 5-star rating on Google with almost 200 reviews, he can assist you with all your denture needs to keep your smile whole and healthy! If you want to learn more about dentures, contact him through his website or call (734) 453-6320.