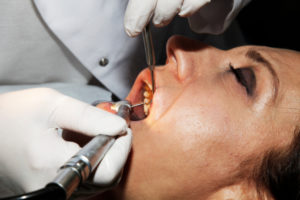 When the worst happens, you might not immediately think about how to repair or replace what's lost. Traumatic injuries and emergencies are frightening, painful, and stressful. It's no surprise that many people in the midst of these issues don't think they'll ever smile again, especially those whose smiles are part of the problem. Following severe facial damage, complete tooth loss, or other serious oral health issues, you may need to consider full-mouth reconstruction. These personalized restorative dentistry plans help patients regain the confidence to share their smiles every day.

Possible Treatments
As the name implies, full-mouth reconstruction is a treatment plan that addresses issues affecting the entire smile. We may include any number of dentistry services as part of the plan, but the goal is always to repair or replace the lost structure and completely renew even the most damaged smiles. Some of the many dentistry services that may be included as part of a full-mouth reconstruction plan include:
Dental crowns and fixed bridges

Partial or full dentures

Dental implants

Cosmetic services like porcelain veneers or direct bonding

Orthodontic alignment
Why One Dentist Should Perform the Entire Full-Mouth Reconstruction
Patients who need to completely repair a damaged smile are likely already experiencing a great deal of stress. It is best to avoid the need to coordinate dental services between numerous offices and dentists on top of existing stressors. Working with one dentist who can handle all of your treatments, process and file insurance claims, and answer all of your questions can dramatically decrease stress related to any dental treatment plan, especially one as complex as full-mouth reconstruction.
In addition to relieving stress, working with a single practitioner to complete the entire process ensures you'll receive consistent treatment. When one doctor and team provide the entirety of care, you'll know exactly what to expect. Finding a trusted dental practitioner who can safely and effectively perform all of the necessary aspects of a full-mouth reconstruction plan is an entirely different challenge.
Meet Dr. Robison
At Robison Dental Group, our whole team is dedicated to making dentistry services safe, comfortable, and effective for every patient we treat. If you've experienced a serious dental emergency, contact us right away to schedule a treatment consultation. Our Canton dentist and team will create a custom dentistry plan to completely repair even the most damaged smiles. Most importantly, our skilled dentist, J.D. Robison, DDS, and his caring team will make sure you feel completely comfortable throughout your time in our office.