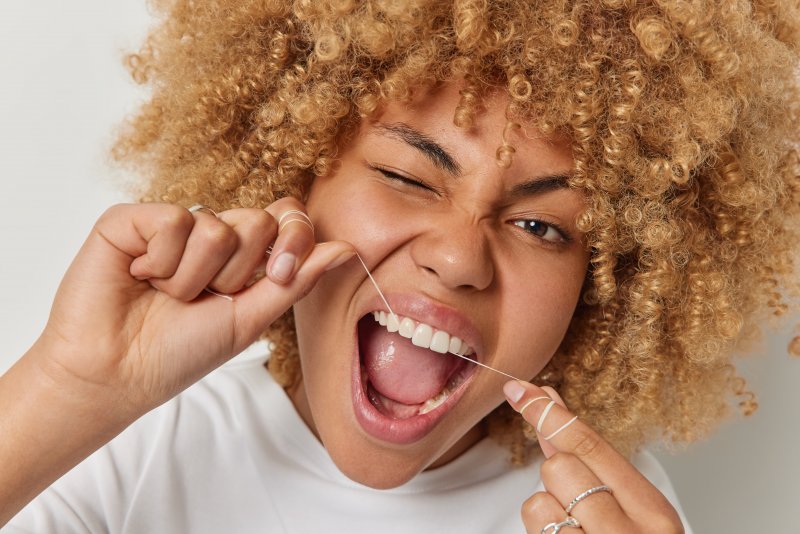 Now that October is here, you're likely already making plans for the spooky season. While Halloween may be at the top of everyone's mind, don't forget that it's also National Dental Hygiene Month. Now is the perfect time to spruce up your teeth-cleaning techniques, that way you can enjoy a beautiful and healthy smile for many years to come. Keep reading to learn several tips to maintain your pearly whites this autumn from your dentist in Canton!
Tip #1: Brush Twice a Day for 2 Minutes
One of the most important ways to keep your teeth healthy and shiny is to brush them at least twice a day. This should especially be done before going to sleep, as forgetting to do so will allow debris, food particles, and bacteria to sit in your mouth overnight. Without brushing them away, they can end up putting you at risk of oral health problems like dental decay, gum disease, and halitosis (chronic bad breath). Remember to use a soft-bristled toothbrush, fluoridated toothpaste, and gentle circular movements to scrub your smile.
Tip #2: Flossing Once Daily Is Just as Important
Many people forget that flossing is as essential for cleaning your teeth as brushing. Though your toothbrush cleans most of your teeth, it can't reach in between them, which is where most plaque and tartar accumulate. By using dental floss, you can effectively remove debris, food particles, and bacteria from hard-to-reach areas, including underneath your gumline, decreasing your chance of cavities and gum disease.
Tip #3: Rinse with Mouthwash Often
To finish off your cleaning routine, be sure to rinse with ADA-approved mouthwash. These products can wash areas your toothbrush and floss can't reach, reduce the acidity in your mouth, and remineralize your pearly whites. This shouldn't be a substitute for brushing and flossing, but it will add an extra layer of protection for your oral health.
Tip #4: Stick to Healthier Dietary Options
Other than your cleaning techniques, you'll want to ensure you keep a diet that promotes healthy gums and teeth. Sugary treats are detrimental to your smile, so you'll want to avoid or minimize how often you consume them. You'll also want to avoid acidic fruits, coffee, and even tea, which can result in enamel erosion and weaken your teeth. Stick to crunchy fruits and veggies, such as apples, celery, carrots, and pears, which are nutritious and also stimulate saliva production.
Tip #5: Schedule Routine Dental Checkups & Cleanings
On top of practicing good at-home oral hygiene, you should visit your dentist for checkups and cleanings every six months. These visits will allow them to assess your mouth and address any developing issues they might detect. They'll also thoroughly polish your smile to remove plaque and tartar, reducing the risk of future issues like gum disease and cavities.
Don't let your oral health get spooky during National Dental Hygiene Month. Keep these tips in mind, and you'll be able to enjoy a healthy smile for Halloween and beyond!
About the Author
Dr. J. D. Robison studied at the University of Detroit Mercy, the University of Michigan, and Purdue University. He also regularly pursues continuing education to refine his skills and has completed courses from prestigious institutions like the Dawson Center for Advanced Dental Studies. He offers a vast collection of high-quality treatments, including dental checkups/cleanings, gum disease therapy, and oral cancer screenings. If you'd like to set up an appointment, visit his website or call 734-453-6320.