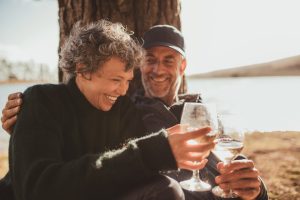 Children are flying all over the place at the Sky Zone Trampoline Park. The building is awash with laughter and people yelling, "Higher!" You always enjoy bringing your kids here to burn off energy. While the rest of the parents are smiling and pointing out their children, you remain quiet. You're enjoying the scene as much as anymore, but you don't want to say anything for fear they will see your missing teeth. They keep you quiet pretty often these days, you think to yourself. You want to do something about it so you never have to think about them again. You can get that solution with dental implants in Canton from the Robison Dental Group.
Why Should You Get Dental Implants?
Missing teeth can lead to a multitude of problems. They can make simple everyday tasks like eating and talking difficult. They can also affect how your teeth fit together, and your other teeth may even eventually crowd into the gap. This is not even mentioning the affect it can have on your confidence and self-esteem. One of the most reliable ways to restore these missing teeth is with dental implants.
What Are Dental Implants?
Dental implants have an advantage over traditional methods of replacing missing teeth like crowns and bridges because they restore the entire tooth: root and crown. Other procedures serve to repair the tooth only above the gum line, leaving them vulnerable to further decay and tissue loss. With dental implants, a new titanium root is surgically placed into your gum line. This not only provides a sturdy base for a new tooth, but can also help prevent and even reverse tissue loss. It is able to do this because titanium is bio-compatible with the human body, meaning once the root has been implanted, the body treats it like a real root and sends nourishing blood to the surrounding area. Crowns and bridges cannot do this.
Implants are usually topped with a high-quality porcelain crown to give you a tooth that is both aesthetically pleasing and functionally strong. These two elements are held together by a metal connector called an abutment.
Dental implants are one of the most versatile ways you can replace your missing teeth, as they can replace a single tooth, support a bridge, or anchor a set of dentures. They have a 98% success rate and can last a lifetime with regular brushing and flossing, just like natural teeth.
What Is The Procedure Like?
Dr. Robison and his team are proud to be able to complete the entire implant procedure under one roof, unlike many other dental practices. The procedure to get dental implants involves 3 basic steps:
Robison will place the titanium root into your jawbone
You will be given 3-6 months to heal and allow the root to bond to your jaw
Finally, the new porcelain crown will be attached to the root
The first part of the procedure involves minor surgery, but this can usually be completed with local anesthesia and requires minimal healing time. The 3-6 period is mostly to give the root time to bond with your jaw. Once you have the crown, there will be very little sensation in the implant itself, but it will be able to function just like your other teeth.
How Can I Get Dental Implants?
The first step to getting dental implants is to make an appointment with Dr. Robison. He will give you an evaluation and determine if you are a good candidate for dental implants, or what steps you can take to become one. When you restore your smile, you want it to last the rest of your life. Dental implants can do that for you, so come see us today.