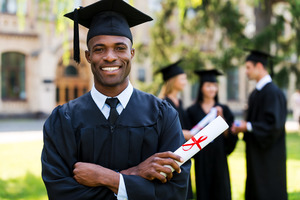 If anyone in your family is graduating in the near future, you'll naturally want to get them a gift to mark the occasion. But what kind of gift should it be? One idea is to give them something that can potentially increase their chances of success when they head out into the world looking for a job. In many cases, cosmetic dentistry can be a great option; here's why the gift of a more attractive smile could be just what the graduate in your life needs.
Why is Cosmetic Dentistry a Good Gift for Graduates?
Anyone who is looking to take the first step in their career could benefit from a dazzling grin. Many people notice your smile before anything else when meeting you for the first time; as such, the better your teeth look, the easier it is to make a positive first impression.
Furthermore, when it comes to jobs that involve interacting with or speaking in front of others, appearance can make all the difference. Lawyers, teachers, hairstylists, salespersons, restaurant employees, repairmen, and newscasters are just a few examples of career paths where having a dazzling smile could be crucial for success.
Even if your graduate is looking for a job that involves spending a lot of time behind a desk, they can still benefit from a better smile. Being approachable and friendly can go a long way toward helping one find success in their career, and a bright, confident grin can help with that.
What Kinds of Cosmetic Dentistry Treatments Are Available?
Of course, the term "cosmetic dentistry" can refer to many different treatments, and some might be more beneficial for your graduate's smile than others. Here are some of the options available:
Veneers and Lumineers: Veneers are able to mask multiple aesthetic flaws at once by completely covering the fronts of the teeth. They're known for being one of the most versatile cosmetic treatments. Lumineers can be used to make the same kinds of improvements; however, they can be placed without altering the teeth, meaning your graduate can have them removed at any point in the future should they choose to.
Cosmetic Bonding: Is your graduate mainly happy with their smile but has expressed annoyance with one small flaw on a particular tooth? Cosmetic bonding can be a quick, convenient way to make relatively minor improvements.
Teeth Whitening: Who doesn't want a whiter smile? A professional whitening treatment can brighten dull or stained teeth in a relatively short amount of time. In fact, an in-office whitening treatment can be completed in just an hour, meaning your graduate can enhance their smile just before getting their diploma!
In short, graduation gives everyone plenty of reasons to smile. What better way to mark the occasion than to give your graduate a beautiful grin that will serve them well in their job search?
About the Author
Dr. J.D. Robison is a third-generation dentist following in the footsteps of his grandfather and father. He currently runs his family's practice, Robison Dental Group. He's able to offer veneers, Lumineers, cosmetic bonding, and teeth whitening as ways to help his patients improve their smiles. To schedule a consultation with Dr. Robison at his office in Canton, visit his website or call (734) 453-6320.