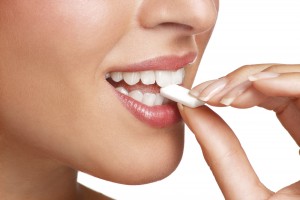 Keeping your smile clean throughout the day will help you enjoy good oral health. It's not always possible to brush and floss after every meal, though. Maybe you're at work or you're out all day doing errands. What can you do to help you keep food and debris away from your teeth and gums?
Try chewing gum in between snacks and meals. Because gum is sticky, chewing a piece of gum after you eat will help you clean your teeth. What's more, chewing stimulates the production of saliva, which has a neutralizing effect on acid. The one-two punch of cleaning food away from teeth and neutralizing acid will protect your smile from decay and more.
What Kind of Gum Should I Chew?
The brand of gum you choose matters less than choosing a gum that's sugar free. Sugar spurs the production of decay-causing cavity, while sugar free gum promotes a more stable environment. Some brands of gum use xylitol as the sweetener. Xylitol is a natural sweetener derived from the fibers of plants and also has a neutralizing effect on acid. That's why xylitol is also used in some toothpaste brands as well. Support your oral health by chewing sugar free or xylitol gum.
Do you have questions about keeping your smile clean? Call us today with your questions or to schedule an appointment. Robison Dental Group is located in Canton and serves patients from Michigan, Ann Arbor, Northville, Westland, and Plymouth.