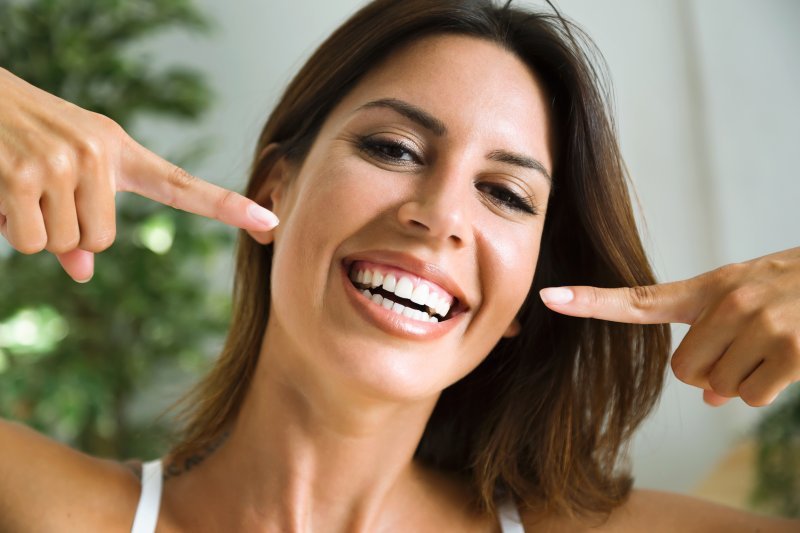 Everyone wants to feel like they have a gorgeous smile, but many people are insecure about certain traits of their teeth. Fortunately, with modern dental technology, you have the ability to make the changes you desire in order to feel more confident when you show off your grin. But have you ever thought about what changes you would make? Of course, everyone has a different idea of what a beautiful smile means, but a dentist in Canton shares some common traits that are desired.
Bright, White Teeth
It is completely natural to have some tooth discoloration over time, but some people don't feel nearly as confident when they have noticeable yellowing and staining. This happens over time after eating and drinking pigmented foods and beverages, using tobacco products, and just aging. The good news is that you can solve this issue with several different cosmetic treatments, including porcelain veneers, teeth whitening, or cosmetic bonding for smaller stains.
Health Gum Color
Gums that are healthy tend to have a firm, pink appearance. When gum tissue is red, swollen, or bleeding when you brush or floss your teeth, this is a sign that you probably have gum disease. This issue can be reversed early on. See your dentist for regular cleanings and checkups. Brushing twice and flossing once a day is necessary to prevent this from occurring.
Aligned Bite
There are many different bite issues that can make it more difficult to eat as well as take away from your appearance. Whether you have an overbite, underbite, open bite, or crossbite, you can have these issues fixed with orthodontics, like Invisalign. This treatment involves a series of clear aligners that slowly put your teeth into their new, perfectly aligned locations.
Gum to Tooth Proportion
In order to have strong teeth, they need to be supported by healthy gum tissue. However, if you have more of this tissue than the average person, you may feel that your smile looks a little bit too 'gummy.' If this is something that bothers you, you'll be pleased to learn that there is a solution. Gum contouring and crown lengthening is available to help patients achieve a crown to gum ratio that they are more comfortable with.
Spacing Between the Teeth
Teeth that are spaced apart properly barely touch each other. When they are too close together, they have the appearance of being overcrowded, but if they are far apart, there is an appearance of gaps. Neither of these are considered aesthetically pleasing. Fortunately, both issues can typically be corrected through Invisalign treatment. Sometimes, smaller gaps can also be corrected through the use of porcelain veneers or cosmetic bonding.
What you consider to be a beautiful smile may be different to what someone else thinks. Cosmetic dentistry is simply here to help you reach your goals when it comes to your teeth. This way, you can work towards feeling great about your appearance.
About the Author
Dr. J.D. Robison attended Purdue University, University of Michigan, and University of Detroit Mercy before completing the core curriculum at the prestigious Dawson Center for Advanced Dental Studies. He also has extensive training in orthodontics and aesthetic reconstruction. Currently, he is a member of the Academy of Comprehensive Esthetics (ACE) and the International Academy of Comprehensive Esthetics (IACA), among other professional organizations. To learn more about cosmetic dentistry or to schedule a consultation, visit his website or call (734) 453-6320.