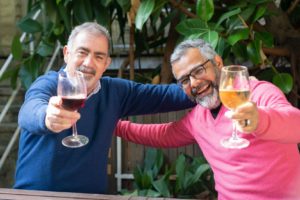 Summer is an amazing time of the year, but warmer weather and sunshine aren't the only reasons to be excited this season. You've invested in dental implants in Canton to replace your missing teeth. You've chosen a solution that closely functions like your real teeth, so you don't have to skip eating your favorite summer foods anymore. Although you can enjoy corn on the cob and steak again, here are 5 tips to make eating with dental implants easier.
1. Choose your meats wisely.
Unlike traditional tooth replacement treatments, dental implants have the support of your jawbone. As a result, you've regained 70% of your natural biting force, so you don't need to avoid certain foods anymore, including meats; however, your implant dentist has a few precautions. It's important to choose your meats wisely because those that require a lot of chewing will put extra wear and tear on your dental implants. Eating meat off a bone can cause a dental implant to loosen. It's better to choose meats that are slow-cooked or ground over those that are chewy.
2. Cut your food into smaller pieces.
Your dental implants will function like your real teeth, but they have their limitations. You can make eating easier by cutting your foods into smaller pieces, like steak. It will require less chewing to decrease strain on your new teeth, which is especially important if you've replaced any molars.
3. Cut your corn off the cob.
Corn on the cob is a favorite for many Americans, but you know you're going to get kernels stuck between your teeth. If you have dental implants, it can be very difficult to remove them. It's best to cut your corn off the cob to save yourself from the hassle and potential complications of trapped kernels.
4. Skip sugary foods and drinks.
You know sugary foods and drinks contribute to tooth decay, but your natural teeth aren't the only things susceptible to cavity-causing bacteria. Frequent sugar consumption can erode your dental implants and cause them to fail over time. You'll want to limit how many sugary treats, sauces, and drinks you consume. If you can't ignore your sweet tooth, brush your teeth well after you've finished.
5. Limit saturated fats.
If you'll be firing up the grill this summer, consider the fat content of your favorite meals, like hot dogs. They contain plenty of saturated fats, which can irritate your gum tissue and potentially lead to an infection. Although the occasional hot dog won't cause your dental implants to fail, you'll want to watch what you throw on the grill.
You can enjoy every minute of summer thanks to your new smile. You won't need to skip your summer favorites at the next family barbeque.
About Dr. J.D. Robison
Dr. Robison studied at Purdue University, University of Michigan, and the University of Detroit Mercy before continuing his training at Dawson Center for Advanced Dental Studies. He offers state-of-the-art treatments to help his patients achieve their best smiles. If you're interested in dental implants, contact our office today to schedule an appointment.