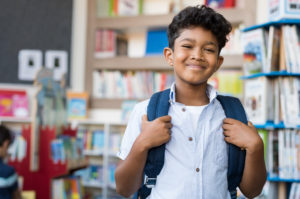 In 2012, a study published in The Journal of Pediatrics established a link between poor dental health in children and "reduced school performance and psychosocial well-being." It's no surprise that children are at a higher risk of developing oral health issues because they're still learning how to take care of their smiles, but with the right support, like routine preventive care and helping them build a strong oral hygiene routine, parents can not only set their children's smiles up for success, but also their academic careers.
Establishing a Back-to-School Routine
In the midst of shopping for your child's school supplies, attending open houses, and refreshing your child's wardrobe before the first day of classes, it can be hard to make a seamless routine switch from summer to school year. However, being intentional about keeping your child on their regular routine, like brushing their teeth first thing in the morning and brushing and flossing before they go to bed, can help them prevent cavities and oral health problems from arising and causing them to miss class throughout the year.
Making Brushing & Flossing More Fun
For some children, brushing and flossing their teeth feels like a chore. To help make it a little more fun and tempting to do regularly, you can purchase oral hygiene products that reflect their current interests and taste great, like a toothbrush with their favorite TV character on it, flavored toothpaste, and easy-to-use floss picks.
Helping Build a Strong Dental Hygiene Routine
Children who are still getting in the groove of brushing twice each day, flossing once a day, and rinsing their mouth daily may be able to benefit from a little encouragement from their parents. If your child isn't a fan of taking the time to clean their pearly whites, try encouraging them by doing it together or implementing a reward system, like allowing them to choose the family movie night video if they maintain an oral hygiene streak!
Packing Tooth-Friendly Lunches
Certain foods, like those that are high in sugars and carbohydrates, may increase your child's risk of developing cavities, especially if they sometimes skip out on brushing their teeth. By packing their own lunches with foods that help naturally remove plaque and strengthen enamel, you can fortify the health of their smile. Some great tooth-friendly items to pack in their lunches include:
Yogurt
Cheese
Fresh fruits and vegetables
Nuts
As a parent, you have a lot on your plate, but even if you're able to implement one of these tips into you and your child's routine, you may be able to avoid an unexpected visit to their children's dentist, all while helping them excel in school because they don't have to worry about tooth pain or other discomfort associated with oral health problems.
About the Author
Dr. J.D Robison carries on his father's and grandfather's legacy by continuing to practice top-tier dentistry in Canton. He offers a variety of children's dental services in a comfortable and welcoming environment and is proudly in-network with Delta Dental. In addition to children's dentistry, he offers cutting-edge treatments for adults, including sleep apnea therapy, TMJ therapy, and much more. To schedule a back-to-school checkup for your child or one for yourself, visit our website or call 734-453-6320.