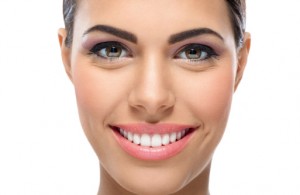 Do you struggle with stained or discolored tooth enamel? If so, you're not alone. Millions of Americans seek out ways to achieve a brighter, whiter smile each year. A bright white smile can be an instant boost in self-confidence and make you look and feel younger. If you're thinking about your teeth whitening options, you may be confused by the many treatments available. But before you make any decisions, you should make an appointment with Robison Dental Group for a teeth whitening consultation. Dr. Robison is an experienced cosmetic dentist. He can save you the time, money, and frustration of choosing a teeth whitening treatment that fails to work on your teeth. Robison Dental Group renews smiles daily for patients throughout Canton, MI, Ann Arbor, Northville, Westland, Plymouth, and the surrounding communities.
Tooth discoloration and staining can begin at any age, and can be caused by a number of different factors including:
Genetic defect
Congenital diseases
Environmental factors
Infections
Metabolic diseases
Prescription drugs and medications
The antibiotic tetracycline
Eating or drinking acidic items including tea, coffee, soda, or wine
High fever at an age when teeth are forming
Poor oral hygiene habits
Neonatal jaundice
Fluorosis (over use of fluoride)
Why Choose Teeth Whitening from Robison Dental?
Teeth whitening, by definition, is a process through which teeth appear whiter. Although this is a simple definition, the actual teeth whitening process is not so simple. Most teeth whitening products fall into one of two categories; bleaching products which contain peroxides that actually remove deep staining and change the color of the enamel, and non-bleaching whitening products which contain mild abrasives that remove surface stains only. Teeth whitening toothpastes fall into the latter category, and cannot effectively whiten discolored enamel. Most over- the-counter teeth whitening products do contain bleaching agents; however, they are heavily diluted. Therefore it can take several weeks of daily use before you will be able to seen any significant change in the color of your teeth. Your best option is to make a teeth whitening appointment with Dr. Robison. Dr. Robison offers fast and professional in-office teeth whitening, and easy to use take-home teeth whitening with custom fitted whitening trays. Either option will get your teeth several shades whiter in a fraction of the time it would take with any DIY product. In addition, Dr. Robison can ensure that your teeth and gums stay healthy and are not irritated by your whitening treatment.
No matter the cause of your tooth discoloration, teaming up with Dr. Robison is the most reliable option for getting the teeth whitening results you want. Dr. Robison will ensure that you understand how the teeth whitening process actually works, and fully treat any sensitivity issues that may arise. Make your teeth whitening appointment with Dr. Robison today. Robison Dental Group proudly serves patients of all ages throughout Canton, MI, Ann Arbor, Northville, Westland, Plymouth, and nearby areas.