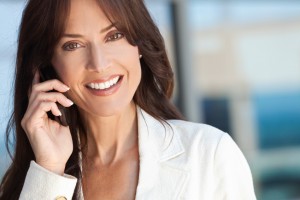 Studies show people want whiter teeth. Learn important facts professional teeth whitening from Canton, MI dentist, Dr. J.D. Robison.
Teeth whitening helps people attain the bright smiles they've always dreamed of. Canton, MI dentist, Dr. J.D. Robison, offers both in-office and at-home whitening treatments that change tooth color up to 8 shades whiter for simply dazzling smiles.
Teeth whitening facts
Fact # 1 Many teens and adults are candidates for whitening. Dr Robison carefully evaluates each patient interested in whitening to determine if he is a good candidate. A patient should be free of decay, gum disease and extensive restorations such as crowns and fillings. Women who are pregnant or lactating should postpone whitening and other elective dental procedures.
Fact #2 Teeth whitening lifts out stains from dark food choices, smoking and simple aging. Dental grade whitening gel contains highly concentrated hydrogen peroxide which bleaches the organic matter caught deep in tooth enamel. The in-office application takes about an hour while the at-home kind is more gradual, but just as effective.
Fact #3 There is less tooth and gum sensitivity with whitening supervised by Dr. Robison. Unfortunately, not only are over the counter strips and trays less concentrated and less effective, they also can leave tooth enamel and the soft tissues of the mouth very sensitive to heat and cold.  At Robison Dental Group, however, the whitening gel is carefully applied and soft tissues protected. With the at-home version, custom-made trays fit snugly over teeth, preventing the gel from seeping out onto gums. Patients wear trays for 1 to 2 weeks for a prescribed amount of time daily.
Fact #4 Teeth whitening results last indefinitely. When patients limit staining foods and beverages such as blueberries, curry, coffee and red wine, teeth stay whiter longer. Also, good brushing and flossing habits, combined with professional cleanings at Robison Dental Group, keep teeth clean and bright. Of course, smoking wrecks tooth color, oral health and systemic health, too.  So, quitting protects your investment in teeth whitening.
Fact #5 Teeth whitening works the best on yellow teeth. Extrinsic or surface stains are characteristically yellow. Whitening gels work best on yellow teeth and work poorly on intrinsic stains from pharmaceuticals or tooth injury. These conditions leave teeth a shade of grey or even purple.
Fact #6 Your Canton, MI dentist may combine teeth whitening with other cosmetic dental services. While teeth whitening frequently is used singly, dentists can combine it with composite resin bonding and porcelain veneers for a complete smile makeover. Teeth straightened with Invisalign clear aligners look even more beautiful when whitened.
Get that youthful, bright smile
Find out if professional teeth whitening is right for you. Contact Dr. J.D. Robison's team to arrange a personal smile consultation. Dr. Robison will examine your teeth and determine if you and whitening are a good match.