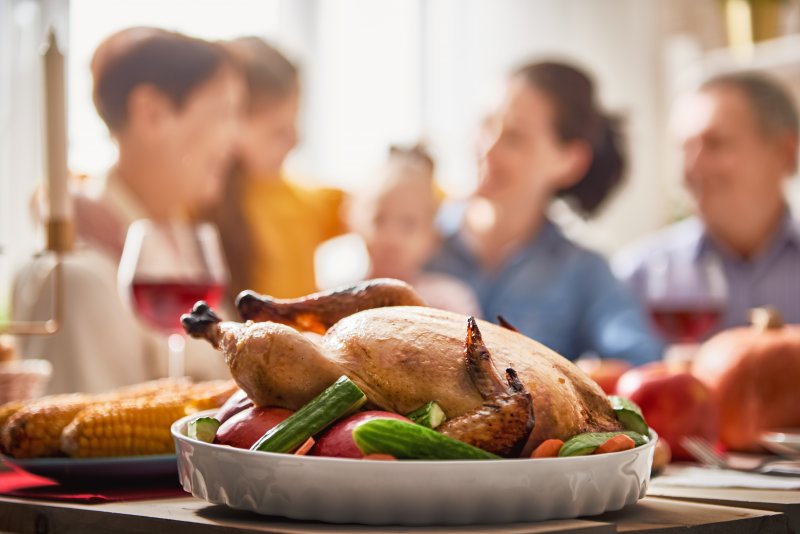 November is officially upon us, which means Thanksgiving will be here before you know it! During this special time of the year, most people are showing gratitude, reconnecting with loved ones, and (of course) eating. Although your belly may be satisfied on this day of indulgence, it can negatively affect your oral health. Luckily, there are many steps you can take to keep your smile in its very best shape. Continue reading as a dentist in Canton shares five ways to have a healthy Thanksgiving.
Reduce Your Sugar Intake
It's no secret that sugar is bad for your teeth. Every time you eat the sweet substance, cavity-causing bacteria in your mouth feeds on the particles, producing harmful acids that attack the enamel. Unfortunately, it may be difficult to avoid sugar on Thanksgiving. Cranberry sauce, sweet potato casserole, and pie are all staples for this holiday feast. With options like that on the dinner table, you may end up consuming more sugar than you'd like. Luckily, you can protect your smile by cutting the sugar content in your meal or cleaning your mouth throughout the day. Try filling up on turkey and other non-sugary/starchy foods so you feel less tempted to overindulge with sugar!
Choose Your Drinks Wisely
Some people like to pair their Thanksgiving plate with fruit juice or a glass of red wine. However, these tasty drinks can pose a threat to your dental health. Sugary, acidic, and alcoholic beverages can break down the enamel on your teeth and dry up the saliva that helps naturally clean your mouth. To keep your pearly whites safe, opt for plain water or sugar-free beverages whenever possible. If you must indulge in a sugary, acidic, or alcoholic drink, rinse with water afterward to eliminate any lingering substances.
Avoid Sticky Foods
Who doesn't get excited when they see marshmallows, candied pecans, and caramel on their dessert? Unfortunately, these sweet, sticky treats can wreak havoc on your teeth. Not only are they full of sugar, but the sticky residue is harder to remove from your mouth. That can lead to plaque and bacteria buildup and an increased risk of tooth decay, cavities, gum disease, and other oral health issues. To keep your smile safe, make sure you eat these foods in moderation and rinse your mouth with water afterward. Don't forget to brush and floss as well!
Be Cautious of Hard, Sharp Foods
Many people enjoy snacking on chips, nuts, hard candies, popcorn, and other hard treats throughout the day, especially during the holidays. However, these hard and sharp foods can harm your mouth by stabbing the gums, getting stuck between teeth, or becoming lodged in dentures or braces. If you're going to snack on these foods, it's a good idea to have some floss handy to clean your teeth afterward.
Stick to Designated Eating Times
Did you know the amount of food you eat can affect your mouth just as much as the foods you eat? By snacking throughout the day, you're constantly exposing your teeth and gums to harmful substances and increasing your risk of oral health problems. To keep your mouth safe, stick to a designated eating time and avoid snacking!
This holiday season, the last thing on your mind might be your oral health – but it should be a priority. By following the tips outlined above, you can protect your smile and enjoy a happy, healthy Thanksgiving!
About the Practice
At Robison Dental Group, we offer exceptional, luxurious, reliable dental care that's guaranteed to exceed even your highest expectations. Our team is passionate about helping patients achieve optimal oral health. We enjoy educating our patients to help them make confident and informed decisions for their smiles. For more ways to have a healthy Thanksgiving, visit our website or call (734) 453-6320.