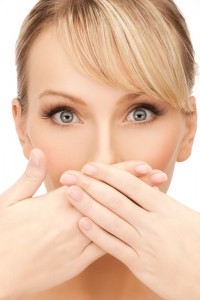 We think of bad breath as being caused by the foods we eat. But for patients who struggle with frequent bad breath, the cause may be gum disease instead.
The connection between gum disease and frequent bad breath—also known as halitosis—is easy to explain.
The foods we eat cause the bacteria in our mouths to create a sticky substance known as plaque. Brushing and flossing help to control the amount of plaque around teeth. However, poor brushing habits can cause bacteria, plaque, and even pieces of leftover food to accumulate. Over time, this accumulation is what produces the bad breath of halitosis.
Thankfully, treatment for halitosis is possible. Dr. John Robison and Dr. J.D. Robison offer effective gum disease therapy to help you treat your symptoms. Using specialized oral care products at home will also help you enjoy fresher breath and better oral health again.
Has your struggle with halitosis and gum disease made you anxious about socializing with others? Relief for your symptoms is possible. Call Robison Dental Group today for an appointment with our Canton dental team. We offer exceptional care to patients from Canton, Michigan, Ann Arbor, Northville, Westland, and Plymouth.