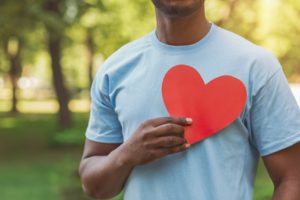 Did you know that this February is American Heart Month? That means that there's no better time to learn about how the health of your smile impacts your cardiovascular system. Not only is this a little-known fact, but something as simple as brushing, flossing, and going to your routine checkups and cleanings can have serious benefits for your overall wellbeing. Read on to learn about five ways to keep your smile and heart healthy and how these two parts of your body affect each other.
How Can Oral Health Impact Heart Health?
The key to connecting the health of your smile to your heart health is a very common oral issue called gum disease. It develops when harmful oral bacteria have overrun your mouth due to an accumulation of plaque and tartar buildup. As the bacteria feed off of sugars and carbohydrates from leftover food debris, they release a toxin that can cause gum inflammation and infection. When the issue isn't taken care of immediately, it can progress to cause side-effects like chronic bad breath, receding gums, and even permanent tooth loss.
Eventually, these toxins can make their way into your bloodstream and travel throughout your body to places like your heart. Eventually resulting in inflammation and blood clots that can cause strokes and heart attacks. Fortunately, you can make conscious, intentional decisions to drastically decrease your risk of gum disease, and in tandem, take better care of your cardiovascular system.
5 Ways to Keep Your Smile & Heart Healthy
One simple way to look after the health of your heart is to keep your smile in tip-top shape. Here are five tips to help:
Brush your teeth twice a day for at least two minutes to prevent plaque accumulation and tartar formation.
Floss daily to keep food debris from becoming lodged between your teeth.
Visit your dentist twice a year (once every six months) for a checkup and cleaning to make sure you aren't exhibiting any early signs of gum disease.
Cut out tobacco use and excessive alcohol consumption to improve your oral and overall health.
Know your risk-factor for both heart disease and gum disease, including age, diet, genetics, and habits.
With your dentists help, you'll be able to keep your oral health on the right track, minimize your risk of developing costly medical or dental problems, and live a healthier, happier life.
About the Author
Dr. J.D. Robison has been practicing dentistry for years. He understands the importance of providing attentive, thorough preventive care that helps his patients avoid developing oral health issues like gum disease and cavities. However, he also understands that these issues can occur. That's why he also offers periodontal therapy to counteract the effects of gum disease as well. For questions or to schedule an appointment, visit Robison Dental Group's website or call 734-453-6320.